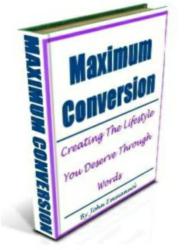 The words used within a sales letter, video, audio or whichever method you choose to reach your potential customers can be the difference between great sales or no sales
Port of Spain, Trinidad and Tobago (PRWEB) May 20, 2012
Many businesses miss out on millions of dollars each year simply because their sales material is not engaging and doesn't get read by its intended audience.
David Ogilvy CBE, advertising executive and the author of Confessions of an Advertising Man says, "When I write an advertisement, I don't want you to tell me that you find it 'creative.' I want you to find it so interesting that you buy the product."
"I believe this should be the aim of any sales material and is an area where many businesses can fail," says John Emmanuel, copywriter/direct response marketer. "The words used within a sales letter, video, audio or whichever method you choose to reach your potential customers can be the difference between great sales or no sales, that's why I am encouraged by the feedback I received when testing the Maximum Conversion: Creating the lifestyle you deserve through words program."
"The Maximum Conversion program provided me with great insight into how my website could be used to improve lead generation. Writing my sales letter was a completely new area of learning for me and this program really shortened my learning curve and made it easy to implement with great results." (Dr. Yvonne Foster, Director Lotus HR)
Top marketing consultants Dan Kennedy and Bill Glazer recommend that small to medium sized companies should focus on sales as this is what is needed immediately and any brand building will be a happy by-product.
To get a higher level of sales and repeat customers it is imperative that businesses' take an in-depth look at their marketing campaign as a whole and make any necessary changes; some of which are simple and only need a little thought when in the planning stage:

The sales copy needs to be targeted towards a specific group. If the sales letter is vague then this should be addressed quickly. The message should not be confusing in any way as this can very easily be misunderstood and will reduce the number of sales dramatically.
It is of utmost importance in business to know who the ideal customer is for the product or service you are promoting. Without this information any sales letter will be ambiguous and unable to elicit the required results.
No medium is wrong and taking a multi-faceted approach can work very well. This is made easier when it is clear where the ideal customer hangs out e.g. social media sites, magazines etc. It is then just a case of simply sending the sales material where they will see it.
There must be follow up. The idea that the ideal prospect is sitting waiting for your message and cannot wait to read every word of your sales letter is a myth, whether they need the service or not.
One hit campaigns rarely work. It is possible to double your response rate by using follow ups e.g. email, fax, letter etc.
Give Them A Reason To Respond
The copy must give them a reason to respond and some type of limiting factor for them to respond right now. Attaching an offer to any sales letter generally increases the response rate of targeted customers
There Must Be Tracking And Measuring
All sales material sent out must be tracked and measured for effectiveness. If there is no measurement of marketing material, then the company is in effect marketing blind and will not be able to see what changes it needs to make to bring in better sales results.
Business owners may struggle to survive in any economy, but even more so in times of economic downturn, if these elements are ignored. Strong sales copy combined with a good product/service is a recipe for success; you will not only survive but thrive.
Maximum Conversion: creating the lifestyle you deserve through words – is a new copywriting program that will show you exactly how to increase the response rate of your sales letter and other marketing material, turning more prospects into customers.
For more tips and information on how improved sales copy techniques that deliver results can help improve your bottom line, go to: http://www.maximumconversion.net
My name is John Emmanuel and I help small to medium sized business owners get the most 'bang for their buck', this I do by incorporating direct response marketing techniques and good sales copy into their own marketing efforts. After analysing and identifying your immediate needs I can devise a marketing plan that will work efficiently and quickly for you.