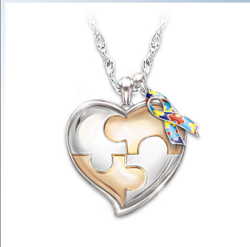 Niles, IL (PRWEB) May 21, 2012
The Bradford Exchange is pleased to announce an exclusive jewelry design that offers customers a unique way to honor and support those whose lives are affected by autism. The "My Hero" Personalized Autism Pendant, which features a sculpted heart with a design resembling 4 interlocking puzzle pieces, includes custom personalization with a name of the purchaser's choice. The pendant also includes a charm of the multi-colored puzzle ribbon, the Autism Society's globally recognized symbol for autism awareness.
According to Leslie Joyce, Vice President of The Bradford Exchange, "As with all of our products, we are committed to providing our customers with a purchase that makes a personal connection—one that is meaningful to them in some way. Not only does this beautiful, customized pendant honor their own personal hero, it is also a viable way to support the awareness and treatment of autism. We are proud to be a part of this very important initiative."
For over four decades, The Bradford Exchange has been recognized as a premier source for unique art-based collectibles, limited editions and fine gifts. The fine jewelry product line is known particularly for its personalized, relationship jewelry. With this latest collaboration, the company continues its commitment to partner with and support a variety of charitable and humanitarian causes such as the Autism Society. The Autism Society is the oldest and largest grass roots organization within the autism community, dedicated to increasing public awareness about autism and the day-to-day issues faced by individuals with autism, their families and the professionals with whom they interact. Currently, there are an estimated 1.5 million people in the United States living with an autism spectrum disorder.
For more information on the "My Hero" Personalized Autism Pendant, visit http://www.bradfordexchange.com/myhero. You can also visit us on Facebook, and find us on Twitter.