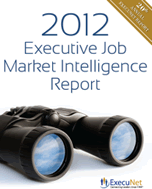 Executive recruiters are more positive than they have been in five years and are expecting an average 21 percent gain in executive search assignments in 2012 compared to last year.
Norwalk, CT (PRWEB) May 18, 2012
http://www.ExecuNet.com - Having tracked trends in the executive job market for 20 years, ExecuNet – a leading business and career membership network for senior-level executives - releases its annual Executive Job Market Intelligence Report which reveals that executive recruiters are more positive than they have been in the past five years.
The report, which surveyed a total of 5,733 business executives, provides fresh insight on trends in the executive employment market, including:
ExecuNet's Top 10 Trends in the Executive Employment Market
1. Despite continuing slow growth for the overall economy, 25 percent of companies are expected to add new executive positions in 2012. The management-level jobs picture is brightening.
2. Executive recruiters are more positive than they have been in five years and are expecting an average 21 percent gain in executive search assignments in 2012 compared to last year.
3. Top 10 industry growth sectors for executive hiring show continued strength in healthcare, technology and life sciences, but major gains are also expected for the manufacturing, business services and consumer products sectors in 2012.
4. The top regional growth areas are now the Northeast and the Southwest.
5. Sixty-seven percent (67%) of executives are going online to achieve more digital visibility and shape their online identities so they can be found for business and career purposes. Sixty-six percent (66%) of executives recognize networking is best way to open up and connect with new career opportunities and don't feel their current networks are broad enough to help them achieve business and career success.
6. Fifty-five percent (55%) of executive recruiters say companies are increasing executive salaries and bonuses to retain top management talent.
7. Sixty-seven percent (67%) of executives say their companies are focusing more on executive retention now than they did last year.
8. Meanwhile, 58 percent of executives had updated their résumé in the prior three months and were primed to consider their career options.
9. Executives and companies are investing in peer networks to achieve their goals.
10. Expected compensation is increasing and the balance of perks and salary is changing, too.
Source: http://www.ExecuNet.com
From a purely corporate perspective, companies are indeed looking to grow in 2012. ExecuNet's market research finds that more than one-quarter of employers are adding new management positions and more than half of employers are selectively 'trading up' with new hires for existing executive roles to fill gaps or improve teams.
While the pace of executive hiring is not equally spread across industries, further evidence of a continuing recovery in the executive employment market is revealed in the finding that only 2 percent of companies are continuing the management cutbacks that many began to institute in 2008.
"Consistent and effective business networking remains the catalyst for executive career advancement, yet we're also witnessing the continued emergence of professional networking as a tool for business intelligence, brand-building, resource planning and global expansion," said Chief Executive Officer Dave Opton, who founded ExecuNet in 1988.
Download ExecuNet's 20th Executive Job Market Intelligence Report.
For questions or deeper commentary, please contact Mark M. Anderson, ExecuNet's President and Chief Economist, at 203-750-1030, ext. 126 or Mark.Anderson(at)ExecuNet(dot)com.
About ExecuNet's 20th Annual Executive Job Market Intelligence Report
ExecuNet's annual market research report was based on surveys of 5,733 executives, comprising 4,282 executives, 539 executive search firm leaders and corporate human resources and talent acquisition leaders, and another 194 search firm consultants from a companion global survey The survey respondents reported an average annual compensation (salary plus bonus) of $220,000, and thirty percent work in organizations in which annual revenues are more than $1 billion. The report was produced by ExecuNet with the cooperation of survey partners WOBI (World of Business Ideas) powered by HSM; CMO.com – a source for one-stop digital marketing insight; Forbes; and Dillistone Systems, a global supplier of FILEFINDER specialist software and services to the executive recruitment community.
About ExecuNet
Since 1988, ExecuNet has helped business leaders shape positive change to achieve what's next in their individual lives. From its beginnings as a small gathering of executives in Connecticut, ExecuNet has evolved into a private network of over 250,000 senior-level executive members with a belief in the transformative potential of trusted insight, real connections and personal introductions to help them find meaningful new work, advance in their careers, better manage the growth of their businesses, and become high-value leaders. A recognized authority in executive employment, retention and recruitment, as well as human capital trends, ExecuNet keeps its members informed about what's important to them in business and their careers.