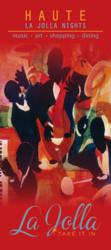 "Over 12 musical groups, located throughout the Village, will make this a unique and exciting event," says Julie Matibag, Event Coordinator.
La Jolla, CA (PRWEB) May 22, 2012
Summer nights are heating up in the Village of La Jolla with a series of festive, evening events that bring together La Jolla's world-class arts community with live music and unique shopping experiences.
When: Saturday Nights-June 9th, July 21st, Sept. 15th
Time: 6:00 - 9:00 pm
Where: Throughout the Village of La Jolla
(Girard Ave. from Pearl to Prospect, Prospect St.,Herschel and Ivanhoe.)
This new summer event is sponsored by the La Jolla Village Merchants Association and is free to the public.
The La Jolla Village Merchants Association created the event series to make La Jolla an exciting night-time destination. "We are creating a series of events for La Jolla that are modeled after some other, very successful events, like "Kettner Nights" in Little Italy and "Ray of Night" in North Park," says James Niebling, LJVMA Board Member and Partner at Esteban Interiors.
For three sizzling Saturday nights, patrons will enjoy a vibrant nightlife in La Jolla Village with 13 live music acts, art gallery receptions and special events hosted in each of the shops located throughout La Jolla.
Take In The Shopping. Over 75 shops throughout La Jolla Village, from home furnishings and décor to high fashion and accessories are participating in Haute La Jolla Nights. They are keeping their doors open late and have gotten creative with deals, displays, demonstrations, and delectable treats for a nighttime shopping experience that can't be missed. Customers will enjoy complimentary appetizers and specialty drinks at many of the retail shops. And, they will find special discounts that are available only during Haute La Jolla Nights. Below is a small sampling of the what the merchants of La Jolla Village have in store for Haute La Jolla Nights:

Customers can sip champagne while watching a floral demonstration at Adelaide's.
La Donna's Boutique, Kerut's and Talbots are staging informal fashion shows.
Many shops will give customers an opportunity to win merchandise and gift certificates.
Customers can win a $250 gift certificate at Gracie & Company or a $500 gift certificate at Everett Stunz.
Warwick's will feature distinct San Diego craft brewers for beer tasting and book signings.
Harvard Cooking Girl is cooking up samples of Paella.
Geppetos is hosting an arts and crafts event for patrons who want to bring their children.
Take In The Art. This former "Art Colony by the Sea" is home to a vibrant and diverse art scene.
La Jolla's many, world renowned art galleries are throwing open their doors to welcome the public to take in exciting new collections. Below are just a few expamples of what La Jolla Art Galleries have planned:
Madison Galleries is hosting a reception for sculpturist Matt Devine and neo-pop conceptual artist, James Verbicky.
Contemporary Fine Arts Gallery is hosting a reception for visionary contemporary artist, Orlando Agudelo-Botero.
Africa and Beyond will serve up African music, wine and a presentation on ancient currency.
The Museum of Contemporary Art will be hosting an exhibition for artist, John Valadez.
Take In The Music! Musicians will amp up the energy throughout the Village with jazz, contemporary, pop, blues and a whole lot of Rock and Roll. Below is a list of the musicians that will perform throughout the Village:
Brief Exposure – smooth jazz and contemporary sounds
Cabanillas – classic rock and roll band
Jennifer Cadence – pop and blues singer/songwriter
Marcos Cervallos – acoustic guitarist
Aja Faasse – pop singer/song writer
Donnie Finnell – classic jazz and blues singer
Chris Marcus – acoustic guitarist.
Aldo Mendosa – acoustic guitarist
Neveready – amalgam of rock, soul, jazz and punk with trumpet, sax and trombone.
Old Man Wizard – a southern California rock band
Mark Pullin – blue grass, country, gospel
Paris Scorci – jazz guitar duo
Saline Solutions - a hometown band with a laid back, alternative groove.
Patrons can top off a great evening of music, art and shopping with dinner and drinks at the many fine resturants in La Jolla Village.
The La Jolla Village Merchants Association invites all to enjoy this new La Jolla Event. Haute La Jolla Nights - Music, shopping, art, food all in the Jewell of California - La Jolla!
About La Jolla VIllage Merchants Association: The LJVMA is partially funded by the City of San Diego's Small Business Enhancement Program and strives to keep La Jolla a world class destination.