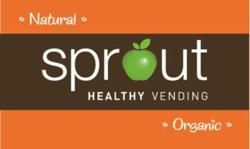 Irvine, California (PRWEB) May 22, 2012
Spreading further and further across the nation, the East Coast welcomes newest Sprout Healthy Vending operator, Tony Toscano, as he begins to place machines throughout Bridgewater, New Jersey. Toscano has joined forces with Sprout, a leader in the healthy vending industry, dedicating his time to placing all natural and organic vending machines in various locations throughout his community.
With a family history of heart disease, Toscano found his inspiration after developing an irregular heartbeat back in 1988. "Both my cholesterol and triglycerides were fairly high. I knew at that moment I had to make a serious lifestyle change or I would be down the same road as my father and grandfather both of whom passed away in their 50's from heart attacks," Toscano shares.
Toscano continues, "My wife and I suddenly became conscious of the food we were eating. We drastically decreased our fat intake and started exercising regularly. We began to educate ourselves in the kinds of foods we were eating. That's when we started to seek out organic, natural foods instead of the processed foods of the normal American diet. We started to look and feel much better."
Aside from his health being an ultimate motivator, Toscano had some other leading factors driving him to join the Sprout family. "I was determined to become a Sprout Healthy Vending operator for a couple of reasons. I was unemployed and I was having trouble securing employment, and when I looked around and only saw traditional snack and drink vending machines, I figured the time was right, and the market was ready for this concept. The opportunity was too great to pass up."
After jumping on board with Sprout and speaking with some possible locations in his area, Toscano has realized a large amount of people are genuinely interested in the program. "There are so many potential locations in my community that will benefit immensely from this program. Several schools and hospitals in the area are starting to implement new laws mandated by the government that will enforce healthier selections for the public," Toscano explains.
"From my experience people will eat what is conveniently offered," Toscano says. "This being said, when we start to replace traditional vending machines with Sprout Healthy Vending machines, everyone will benefit."
Toscano attributes the immediate interest in the program to people wanting to better their lifestyles. "I believe the market is so open to this concept now because people are becoming bombarded with information about their diet and health issues across America. I think people want to eat better, but probably don't realize that their diet extends to snacks. And to do our part, we can start by replacing traditional machines with Sprout Healthy Vending machines."
Co-Founder Chris Wyland states, "Many people today are being told by their doctors that they need to make healthier diet choices. The choices you make now have long-lasting effects on your body and Tony is a great example of this. He has actually made the healthy switch after seeing his family suffer from poor health choices, which is very commendable. He has the right mindset and is a great inspiration to others to jump on the healthy bandwagon as well. He will make a great operator out in New Jersey and I look forward to watching his business take off."
About Sprout Healthy Vending
Sprout Healthy Vending provides state-of-the-art vending technology, thousands of healthy and organic products and turnkey customer solutions for regional operators. Currently, Sprout Healthy Vending has over 65 operators in over 40 markets in the U.S. with 1,000 individual locations projected by the end of 2012. To learn more about the company, locations and products please visit http://www.sprouthealthyvending.com or call (800) 450-7648.