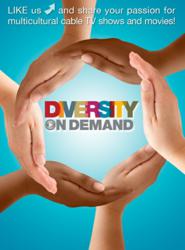 We're looking to build awareness about the variety of TV shows and movies available to customers on cable On Demand both about, and for, diverse, and potentially underserved, audiences, such as the LGBT community
National Harbor, MD (PRWEB) May 21, 2012
During the months of May and June, the nation's leading cable companies, cable networks and GLAAD are joining together to pay tribute to the Lesbian, Gay, Bisexual and Transgender (LGBT) community in America by shining a spotlight on compelling, diverse programming.
"We're looking to build awareness about the variety of TV shows and movies available to customers on cable On Demand both about, and for, diverse, and potentially underserved, audiences, such as the LGBT community," said Char Beales, president and CEO, Cable & Telecommunications Association for Marketing (CTAM).
Through cable's On Demand service, customers can instantly access a variety of programs to learn about the contributions and struggles of the multi-faceted LGBT community. The effort is part of cable's Diversity On Demand initiative promoting the industry's on-going support and commitment to multiculturalism.
"Thanks to the cable television industry's Diversity On Demand initiative, millions of Americans will be able to watch popular stories about lesbian, gay, bisexual and transgender people that both entertain and spotlight the common ground that we all share," said GLAAD President Herndon Graddick. "Critics and audiences alike have already applauded many of these titles and now many more LGBT Americans and their families around the country will be able to do the same as part of this year's Pride celebrations."
Recognized since 2000 by a Presidential Proclamation, LGBT Pride month (June) observes the impact gay, lesbian, bisexual and transgender individuals have had in the world. The cable industry salutes LGBT Month in both May and June with a variety of programming, including:

Documentaries such as The Strange History of Don't Ask, Don't Tell, a timely and historical look at the legacy of gays and lesbians in the military.
Musical Comedies including cult classic film Hedwig and the Angry Inch, an American adaption of the stage musical of the same title about a fictional rock band fronted by an East German transgender singer; and the ground-breaking television series Glee, which spawned a rabid group of fans also known as "Gleeks." The show follows the trials and tribulations of the diverse students that make up McKinley High's Glee Club.
Inspirational biographies such as Milk, a movie based on the true story of Harvey Milk who dedicated his life to giving hope to a marginalized and vilified LGBT community.
Stunning and stark dramas that capture the yearning of a forbidden and secretive relationship between two cowboys in director Ang Lee's film Brokeback Mountain.
Award-winning "Dramedies" such as The Kids Are All Right that tell the story of the perfect lesbian family that begins to unravel when they meet the man that made it all possible. And Unconditional Love, which explores the value and limitations of unconditional love and the evils of sexism and homophobia.
Ground-breaking television series such as Girl, Sex in the City and The Wire.
Viewers wanting to further explore the cross-section of Diversity On Demand programming can visit http://www.facebook.com/diversityondemand to discover the TV shows and movies offered by their cable providers.
For media inquiries, contact:
Jason D. King, ABC
Senior Director, Communications & Media Relations
CTAM
301.485.8914
jason(at)ctam(dot)com
CTAM, the Cable & Telecommunications Association for Marketing, is a non-profit professional association, dedicated to helping the cable business grow. To that end, CTAM provides consumer research, an interactive executive innovation series, conferences, awards and the "CTAM SmartBrief" to its individual members. On behalf of 90 corporate members, the organization leads the Advanced Cable Solutions Consortium and Business Services Council, and facilitates national cooperative marketing efforts, including the Cable Mover Hotline® and Movies On Demand® initiatives. The corporate website is http://www.ctam.com and CTAM can be found on Facebook, LinkedIn and Twitter.