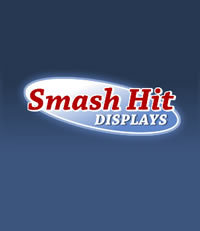 Gig Harbor, WA (PRWEB) May 21, 2012
Smash Hit Displays, the leading supplier of trade show displays in North America, announces the complete overhaul to their trade show blog.
Smash Hit Displays recently unveiled a completely revamped version of their trade show display blog. The change was undertaken with intent of changing the focus of the blog content to provide more educational info for trade show display exhibitors.
As the trade show industry continues to be a highly competitive marketplace to do business, the importance of being prepared at the trade show exhibits to maximize lead generation and generate sales can be the difference between a successful trade show and a poor experience. Being the top educational resource for trade show exhibitors is a priority for Smash Hit Displays.
"The launch of the new blog represents our vision and complete commitment to helping our trade show display customers be even more successful at their next event," says Smash Hit Displays owner, Dennis Nixon. "From the method of following up with prospects after the trade show, to maximizing the visual impact trade show booth space, we are committed to sharing the tips, tricks and secrets that will help their business."
"We have always been a company that is dedicated to serving our customers via our website along with our experienced sales staff on the phones providing the information and resources necessary to help make an informed decision on purchasing their trade show displays. With the change to our blog, we wanted to provide tips, training and education to help customers improve their experience and sales at their next trade show exhibit," said Timothy Carter, Operations Manager of Smash Hit Displays.
In conjunction with the shift of content focus, Smash Hit Displays will be adding new content every Monday, Wednesday and Friday along with any breaking news in the trade show industry.
About Smash Hit Displays:
Since 2004, http://smashhitdisplays.com Smash Hit Displays has become the go-to company in the trade show industry. Not only for their wide selection of quality and budget-friendly trade show displays, but also for their courteous and knowledgeable staff. Smash Hit Displays offers the following products and are constantly adding more based on trade show trends: pop up displays, truss displays, banner stands, custom displays, exhibit rentals, hybrid displays, fabric tension displays, and more. Feel free to browse their website and give them a call with any questions you may have.