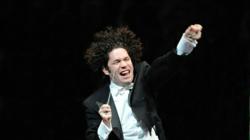 Sistema Scotland (the charity behind Big Noise) sums up beautifully the values of the London 2012 Festival – world class excellence combining the talent of local young people with their hero Gustavo Dudamel and his amazing orchestra from Venezula
(PRWEB) May 20, 2012
'Simón Bolívar Orchestra - Live from Stirling' will take place in the heart of Raploch, against the backdrop of Stirling Castle, and will broadcast on BBC Four, BBC Radio Scotland and at 22 Live Sites across the UK.
This unique concert will be the official start of the London 2012 Festival across the UK and will be one of the largest outdoor classical music events ever held in Scotland.
Special guest appearance
Led by conductor Gustavo Dudamel, almost 300 musicians will perform to an audience of thousands drawn from the local community, across the UK and the world. The concert will also feature a special guest appearance by the children of Big Noise, a programme which aims to transform the lives of young people.
Ruth Mackenzie, London 2012 Festival Director, said: 'Sistema Scotland (the charity behind Big Noise) sums up beautifully the values of the London 2012 Festival – world class excellence combining the talent of local young people with their hero Gustavo Dudamel and his amazing orchestra from Venezula.'
The London 2012 Festival will be a spectacular 12-week nationwide celebration running from 21 June – 9 September, bringing together leading artists from across the world with the very best from the UK.
Find out more about the London 2012 Festival
For further information please contact the London 2012 Press Office