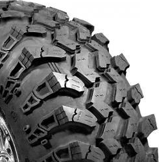 One tire brand has been really making a push to get their name out there in the off road community, Interco Tires
(PRWEB) May 18, 2012
When looking for some tires for an off-road vehicle, one encounters countless options. There are BFG All Terrain TA-KO, General Grabbers, and many others. However, one tire brand has been really making a push to get their name out there in the off road community, Interco Tires.
Interco Tire Corporation has specialized in maximum-performance off-road light truck tires since 1972. Their product lineup is considered by many off-roaders as good as it gets. With such a wide selection, Interco seems to have a tire for everyone's needs. Here is a list of some of their most popular lines.
The new Interco SS-M16 is a tire for all seasons. Many of its design features have been taken from their best performing all terrain and mud terrain tires. The SS-M16 is highway friendly and very quiet for a tire that has such good off road performance.
Then you have the Irok. Many years of experience have gone into the IROK to develop a tire with traction 'as good as it gets' in mud, snow and rock climbing. It has a directional tread in the famous Three Stage Lug design, scooped lugs, blade and molded siping, special sidewall features, extra tough cord and cut resistant compounds in a super traction package.
If visitors to the website are looking for something with great all terrain performance, but with a little less of a chunky tread pattern, check out the Vortrac Tire. The VorTrac design combines all of the features that make up a great all terrain tire. It has a tight tread pattern that is well supported toward the base of the pattern for good stability and long tread life. It has a lot of siping to provide traction in wet weather, snow and ice conditions.
For those that are looking for a serious bogger tire than check out the TSL Bogger. The Super Swamper TSL/BOGGER is built primarily for the professional mud bogger. The tire is a versatile, D.O.T. approved and street legal tire that is easy to modify for the cut, open, and pro stock classes, a new design, for a new generation of competition performance.
Overall, visitors can take a look at the expansive Interco line at SimpleTire.com. So whether customers are looking for that aggressive all-terrain look or a tire to meet the most serious of enthusiast, Interco tire has what most people need!