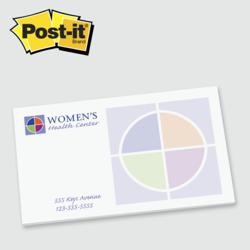 Rapid City, SD (PRWEB) May 21, 2012
With Baslercoinc's new summer promotion, orders of 500-2500 3" x 5" sticky note pads come with an equal number of 3" x 3" pads for free. Having a different design on each of the two pads is a great way to promote more than one product, service, or location. This promotion is a cost effective way for companies to double their visibility or increase brand awareness.
Get noticed with creative options like the new BOGO summer promotion from Baslercoinc. Use the flexibility of two orders for the price of one to promote new products and services, or as a sales call leave behind.
"What better way to communicate your message than on a product that people use to communicate with every day?" says Gary Graves, President of Baslercoinc.
This summer promotion includes 25-sheet and 50-sheet pads printed in one or two colors. Both orders must be placed on the same purchase order and cannot be ordered separately. Choose from seven standard paper colors, but both pads must be the same color paper. Recycled paper is also available in white, canary yellow, or spring green for a 10% upcharge. Visit http://www.baslercoinc.com/discount-post-it-notes.html for more details.
This offer is only available for a limited time. Place orders before August 31, 2012 for this wonderful BOGO opportunity. Again, order 500-2500 3" x 5" Post-it® Note pads printed in one or two colors and get an equal number of 3" x 3" pads free.
Baslercoinc products include regular and die-cut pads, cubes, flags, pens, highlighters, organizers and dispensers. Baslercoinc also provides a variety of unique options such as custom top sheet printing, alternating copy (rotating throughout the pad), second side printing, quick response on large quantity orders and custom sizes. To review additional products, visit us at http://www.baslercoinc.com/.