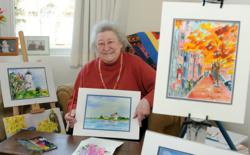 Older Americans are being recognized for remaining active and engaged with their communities.
Weymouth, MA (PRWEB) May 21, 2012
What better way to honor senior citizens during National Older Americans Month than to feature residents of Welch Healthcare & Retirement Group's assisted living communities who are still pursuing their interests? Through an official proclamation President Barack Obama has declared May, National Older Americans Month. The theme for the celebration is "Never Too Old to Play." This month older Americans are being recognized for their considerable contributions and for remaining "active and engaged with their communities."
That is precisely what Assisted Living resident Yvonne Gillis is doing at the Allerton House Community in Weymouth, MA. Gillis, who moved to the assisted living community on the Shore Shore of Massachusetts with about two dozen of her original paintings, has contributed her artwork to shows to benefit fundraising activities, such as the Walk to End Alzheimer's. Says Gillis, "I took an early retirement so I could focus on my painting." The subject matter to which she is drawn includes lighthouses, landscapes, churches and flowers. "I travelled to the Caribbean Islands, Mexico and Portugal, setting up my easel outside to paint."
Today, Gillis participates in painting classes at the assisted living community on Tuesdays, and also is the resident mentor to other aspiring artists. As a strong, experienced and educated painter, she is more than happy to help. "I was always involved in something – my church, Sunday school, the Thrift Shop, Campfire Girls. I'm glad to be needed," says Gillis.
Her generous spirit extends to others at Allerton House, too. She is on the Welcoming Committee and is known for her thoughtful gifts of hand-painted watercolor cards, bookmarks and beaded necklaces.
Allerton House at Central Park is part of Welch Healthcare & Retirement Group's continuum of care in Weymouth, MA. It also includes the Colonial Rehabilitation & Nursing Center for short-term rehabilitation or long-term care and the Colonial Adult Day Health Center. The Welch Group, a family owned senior care and housing company with a history of over 60 years of service, has four other Allerton House Assisted Living Communities on the South Shore of Massachusetts in Duxbury, Hingham, Marshfield and Quincy. For more information visit http://www.assistedlivingmablog.com