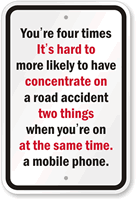 "Distracted driving is so rampant, yet so preventable," said Rivka Fogel, manager at MyParkingSign.com. "With a bit of educational signage, it could really be eradicated."
Brooklyn, NY (PRWEB) May 21, 2012
MyParkingSign.com, the Web's premier parking sign provider, has released a new series of No Texting signs in a new distracted driving campaign, "No Texting While Driving." The signs discourage texting while driving and use a variety of graphics to enforce messages of safety. Texting and driving is often a fatal combination and has led to distracted driving legislation across the country.
Car accidents related to texting while driving occur every year. US Government Website Distraction.gov states that in 2009, a reported 5,474 people were killed in distracted driving crashes, while another 448,000 were injured. Additionally, the site states that drivers are twenty-three times more likely to be in a collision if they are on the phone. Reading a text takes an average of 4.6 seconds, making a driver going 55mph essentially blind for the length of a football field. The US Department of Transportation responded to this tragic epidemic by starting Distracted Driving Awareness Month in April 2011. Last month marked the national initiative's second annual campaign, which continues to spread the word about the dangers of texting while driving.
MyParkingSign's collection of No Texting While Driving signs employ a variety of imagery and concise language to communicate with drivers. The "No Phone Zone" aluminum sign provides a memorable, catchy phrase to drivers, while the "Don't Text and Drive" diamond sign uses a startling graphic to catch viewers' attention. All of the signs are printed with colorful, long-lasting 3M ink. Organizations that wish to customize the signs to maximize the effect of the message have the option to add text or images to six different No Texting signs.
MyParkingSign.com also offers individuals and businesses two complimentary No Texting While Driving signs or labels as part of the company's distracted driving safety campaign. The free signs can be posted in parking lots, entrances, around a campus or in other locations with car traffic. Labels are useful and informative ways to spread the message of focused driving. The labels can be used as bumper stickers, locker or window decorations.
"Distracted driving is rampant, yet completely preventable," said Rivka Fogel, manager at MyParkingSign.com. "With a bit of educational signage, it could really be eradicated." The company's newest initiative provides a range of innovative, durable signs and labels that effectively give drivers straightforward reminders to put away phones and focus on the road.
For more information on the No Texting While Driving campaigns and to receive free signs, visit http://www.myparkingsign.com/no-texting-driving-school-campaign.aspx
About MyParkingSign.com
MyParkingSign is the largest online distributor of parking and traffic signs. Find over 3,000 different parking signs in stock as well as labels and accessories. Customers can create signs using convenient customization wizards.
About SmartSign
SmartSign is one of America's fastest growing e-commerce companies and parent of http://www.MySafetySign.com, http://www.MyParkingSign.com, as well as over 50 other sites.
Traditionally, signs with the right message have been hard-to-find, hard-to-design and hard-to-order. By positioning "Signs as Solutions", SmartSign has taken an entirely different approach. Through highly targeted, yet content-rich and authoritative sites, the company provides specific solutions to specific problems – such as keeping a parking lot safe. Couple this with fast and free shipping, 3M warrantied signs that outlast fast-fading ink jet signs from competitors, the web's largest range of designs and a best price guarantee, it is easy to see why SmartSign has grown so quickly.
Visit http://www.smartsign.com for more information.