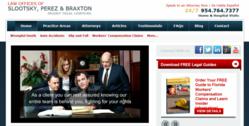 "It's one thing to read the answer to a question on a website, but it helps clients feel more confident in the law firm they're planning to work with when they actually hear an attorney explain a topic. Seeing and hearing your attorney before you hire him
Fort Lauderdale, Florida (PRWEB) May 21, 2012
Fort Lauderdale, Florida – The Law Offices of Slootsky, Perez & Braxton launched SlootskyLaw.com, a website devoted to helping accident victims in South Florida.
SlootskyLaw.com will provide accident victims in the South Florida area with information and resources to learn about their options to seek compensation for their injuries and losses. The website covers major personal injury claims including:

Auto Accidents (cars, trucks, motorcycles);
Medical Malpractice;
Workers' Compensation; and
Wrongful Death
The personal injury attorneys at the Law Offices of Slootsky, Perez & Braxton have compiled years of legal experience into a library of informative articles and blogs, as well as contributed their knowledge of personal injury law to answering some of the most common questions accident victims have after a serious injury.
Attorney Jeffrey Braxton is eager to see the how their new website will benefit their clients. "For our existing clients, it is a great way to continue to improve our services and provide them with the support they need. Potential clients will find the resources they need to learn more about personal injury claims like theirs, and make the decision to contact our office if they want a more personalized assessment."
One of the more unique features clients will find on the new SlootskyLaw.com website is the extensive content library. The library contains real advice on some of the most important legal questions injured victims may have after they have been in a serious accident.
Braxton knows about the importance of attorney videos. "It's one thing to read the answer to a question on a website, but it helps clients feel more confident in the law firm they're planning to work with when they actually hear an attorney explain a topic. Seeing and hearing your attorney before you hire him or her can help ease the stress of finding legal counsel, and make you more comfortable when you decide to work with them."
While browsing the article and video libraries, clients are also encouraged to download free copies of the law firm's legal guides on Florida Workers' Compensation claims and tips to handling a car accident claim. Once a client is ready to pursue a claim, SlootskyLaw.com's online contact form allows them to request a free case evaluation from a South Florida personal injury attorney.
Working closely with the team at We Do Web Content and Foster Web Marketing, SlootskyLaw.com is now providing South Florida with the information and support necessary to handle some of the most difficult cases of personal injury. The Law Offices of Slootsky, Perez & Braxton have been providing personal injury law services to the residents of South Florida for over 20 years. With the launch of their SlootskyLaw.com website they hope to continue to build a great online resource for South Florida accident victims seeking justice.
Law Offices of Slootsky, Perez & Braxton
2950 W. Cypress Creek Rd. Suite 300
Fort Lauderdale, FL 33309
954-764-7377