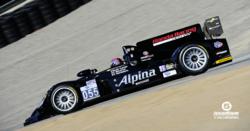 Monterey, CA (PRWEB) May 18, 2012
Scott Tucker and the Level 5 Motorsports team last week claimed their 3rd consecutive class victory in the ALMS race at Laguna Seca according level5 motorsports.com. The motorsports website reported that Tucker along with co-drivers Luis Diaz and Franck Montagny finished the six hour endurance race in second place overall which meant they were victorious in the P2 class.
The race at the Mazda Raceway Laguna Seca, Monterey, CA. was the third of the 2012 American Le Mans Series presented by Tequila Patrón. This year's victory in the P2 class means Scott Tucker and Level 5 Motorsports have now recorded class wins at Laguna Seca for three consecutive years. The Level 5 #95 HPD-ARX-03b car held off some fierce competition from their P2 class rivals Conquest Endurance who pushed the Level 5 car hard for almost all of the race.
Level 5 Motorsports' overall second place finish was an impressive one considering they were only three laps behind the overall winners of the race. Muscle Milk Pickett Racing's #6 HPD-ARX-03a P1 car was driven to victory by Lucas Luhr and Klaus Graf. The P1 class success gave Honda Performance Development the first two spots on the podium.
Scott Tucker and Level 5 Motorsports appear to have developed and maintained something of a winning mentality at the Mazda Raceway Laguna Seca. In the 2011 ALMS race Scott Tucker, Christophe Bouchut, and Luis Diaz recorded a 4th place overall finish in their #055 Honda ARX-01G car. Their 4th place finish sealed the P2 class win. Back in 2010 Tucker tasted victory in the PC class alongside co-drivers Christophe Bouchut and Mark Wilkins in their #055 Oreca FLM09.
About Level 5 Motorsports
Level 5 Motorsports has fielded successful entries in GT and Prototype classes in the American Le Mans Series, GRAND-AM Rolex Sports Car Series, Ferrari Challenge Series, Cooper Tires Prototype Lites, IMSA GT3 Cup and the Sports Car Club of America since 2008. The team has competed throughout North America and Europe, extensively in France and Spain. Team owner and driver Scott Tucker has earned five national championships and has more than 100 podium finishes and 75 victories in his driving career. Level 5 is based in Madison, Wisconsin.