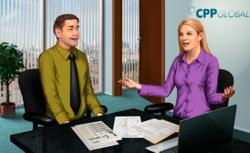 On-time service delivery is critical to our manufacturing business. Logi-Serve fills an assessment gap by focusing on external and internal service excellence.
Brian Tauber, President, Chief Exec
Farmington Hills, Michigan (PRWEB) May 21, 2012
Logi-Serve, a new leader in assessment and development tools for global enterprises of all sizes, has executed a multi-year service agreement with CPP Global. Under this agreement Logi-Serve will provide CPP Global with its leading-edge sales and service excellence screening and development tool. CPP Global specializes in plastic packaging for a variety of applications and markets. With decades of experience in custom manufacturing, and a large range of stock componentry, CPP Global provides the highest level of customer service in the industry and delivers solutions based upon its clients' changing needs. CPP Global' s core operating principle is to provide the BEST CUSTOMER SERVICE — a concept ingrained throughout the organization. It distinguishes itself through responsiveness, cost-competitiveness, quality, delivery and customer satisfaction — a complete value proposition to support its clients' supply-chain objectives.  
Brian Tauber, President, Chief Executive Officer of CPP Global. 
"On-time service delivery is critical to our manufacturing business. Logi-Serve fills an assessment gap by focusing on external and internal service excellence. Logi-Serve is a very thoughtful and well-developed tool."
Logi-Serve redefines how talent is assessed utilizing a patent-pending Visual Logic™ storyboarding technology that engages candidates more fully with a unique user experience. Logi-Serve is technology designed for a visual generation. No other product on the market has such an engaging, visually based approach, precise scientific validation, and automated features. Logi-Serve's Triangulation™ Science methodology speeds the assessment process and elicits more accurate data. It then analyzes these results using algorithms that improve predictive science and includes advanced business intelligence systems to improve the process of selecting and developing employees. By providing smarter, faster and better insights, Logi-Serve helps prevent costly hiring mistakes, improves employee productivity, and enhances customer satisfaction and business capabilities like never before. The Logi-Serve screening and development system was validated and developed over a three-year period by leading Ph.D.'s  that are nationally recognized assessment design experts. Logi-Serve is the most innovative and results-driven assessment and development technology on the market  Logi-Serve™ has already received recognition and awards, including a Top 10 Ranking as an "Awesome New Technology" by the 2011 National HR Technology Conference leadership, as well as the 2012 Publisher's Choice Product of the Year Award by Customer Care News magazine.