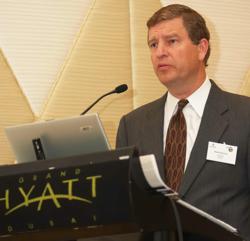 "One of the world's leading experts on maritime security" CNN
FT. LAUDERDALE, FLORIDA (PRWEB) May 21, 2012
Kim E. Petersen, one of the world's best known and respected maritime security authorities, has accepted a position to provide litigation support and expert witness services to the legal and maritime community. He will serve as the principal litigation support consultant with Pathfinder Maritime LLC, an international maritime consultancy in Pompano Beach, Florida.
Mr. Petersen is a former senior executive and director of security with Princess Cruises and Renaissance Cruises. CNN International described him as, "one of the world's leading experts on maritime security". He has over 30 years of combined experience in maritime security, special operations, national security, and intelligence operations. In 2006 he was named the Governor Emeritus of the Maritime Security Council, which represents over 70% of the world's shipping.
"With the tremendous growth of the cruise industry, coupled with a commensurate rise in crimes and incidents at sea and in ports worldwide, there is a critical need for expertise and experience in support of civil litigation – both for plaintiffs and defendants. I look forward to providing legal teams with the necessary professional insights and guidance to ensure a just outcome in their case," said Petersen.
Petersen is the founder of such companies as HydroSEC, SeaSecure, and the Mobius Security Group, and is frequently seen on network news programs presenting expert commentary on maritime incidents, crime, security and counterterrorism. He has worked for President George H.W. Bush and former Secretaries of State Henry A. Kissinger and Alexander M. Haig, and has held senior staff positions at the US Senate and US Department of Defense.
Pathfinder Maritime LLC said in a statement that Petersen will be providing a variety of services to law firms and maritime clients, including case analysis, evaluation, and development; records review; and, expert testimony on maritime issues, including but not limited to:

Cruise ship security & safety issues
Assault investigations and statutory obligations for carriers
Compliance with the Cruise Vessel Security and Safety Act of 2010
Vessel and seaport CCTV systems, access controls, alarms, and safety measures
Crew and staff training
Shore excursion operations, safety, and security
Casino and dram shop operations
Industry standards for criminal & terrorist risk mitigation
ISPS Code & MTSA regulatory obligations of vessel operators and seaports
Other maritime security and safety issues relating to cruise ships, merchant vessels, domestic and foreign seaports, and shore excursions
About Pathfinder Maritime LLC:
Pathfinder Maritime is a maritime security and safety consultancy with a staff that has performed security and vulnerability assessments in over 90 countries and 165 seaports. Serving primarily governments, seaports, and shipping companies, Pathfinder provides threat and vulnerability assessments, training, litigation support, and expert witness services. [http://www.PathfinderMaritime.com
About Kim E. Petersen:
Kim Petersen has over 30 years of experience in security and counterterrorism, including specialization in security and safety in the maritime and transportation industries. He is recognized as one of the world's leading experts on maritime security and counterterrorism and has conducted threat and vulnerability assessments in over 50 countries, including most of the Middle East.
With a bachelor's degree in philosophy, he later attended Harvard Business School in addition to numerous government and military schools. His career has included senior staff positions with former US Secretaries of State Kissinger and Haig, and he has served as a senior staff member to the White House, US Senate, and US Defense Department in the areas of national security and intelligence. He is a former Captain in the Army's Special Forces, and his maritime background includes serving as the senior security executive at Princess and P&O Cruises, and Renaissance Cruises. In 2002, in the words of the Miami Herald, he was appointed 'Port Security Czar' for the state of Florida, responsible for bringing all of Florida's deep-water seaports into security compliance.
In recognition of his global work in maritime security, Mr. Petersen was given the first and only award by the US Secretary of Transportation and the DoT's Director of Intelligence and Security for "promoting maritime counterterrorism and raising the standards of transportation security throughout the world." He was later named Governor Emeritus of the Maritime Security Council, which represents over 70% of the world's shipping as well as seaports.
He has served as a Senior Adjunct Instructor for maritime security and counterterrorism at the US Federal Law Enforcement Training Center, and is a former Visiting Professor at the United Nation's World Maritime University in Malmø, Sweden. Mr. Petersen is a sought after lecturer whose writings have been published in many periodicals, journals, and books. He has been featured on numerous news programs, such as CNN, BBC, NPR, ABC News, CBS News, Fox News, CBS's "Sixty Minutes," and ABC's "20/20". In 2012, Mr. Petersen was a frequent expert contributor on CNN following the Costa Concordia tragedy.
[For a complete biography, please refer to the Pathfinder Maritime website: http://www.PathfinderMaritime.com
Contact:
Pathfinder Maritime LLC: +1 954-.415.8800
http://www.PathfinderMaritime.com
email: Kim(at)PathfinderMaritime.com
-30-