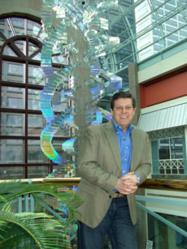 "We've developed an app that is going to change the way salespeople sell."
Cleveland, OH (PRWEB) May 18, 2012
SalesKatz, Inc. developer of the world's first artificial intelligence based, sales prospecting automation tool for salespeople, will launch on June 11, 2012.
SalesKatz has been in extensive beta testing with users all across the US for several weeks. Feedback on the application has been instrumental in driving development and the response has been overwhelming. Based on user response, SalesKatz is anticipating a conversion rate of beta testers to customers at over 90%.
"We couldn't be more excited about the June 11th launch of SalesKatz," said Ken Zebracki, CEO. "Bringing SalesKatz to market is fun and exciting, but more importantly, we've developed an app that is going to change the way salespeople sell. This is the first tool that has been developed specifically for salespeople by salespeople."
"Imagine an app that provides high probability prospects along with relevant business and contact information before you make that first call. How cool is that? We're going to make sales prospecting easy," said Zebracki. "We are creating a truly amazing application, we know salespeople are going to clamor to use it and we can't wait to get it in their hands."
About SalesKatz
Privately held with headquarters in Cleveland, Ohio, SalesKatz has dramatically refined the sales process by utilizing proprietary technology to align sellers and buyers in B2B selling environments. SalesKatz is combining the Science and the Art of selling in a robust SaaS (Software as a Service) application available on PC's, laptops, tablets or smartphones. Complete with a comprehensive sales community, SalesKatz will empower B2B salespeople in all industries.
Founded in 2011, the company develops software applications that help salespeople align their product attributes with potential buyers needs by searching the web for information utilizing their proprietary technology. To find out more about the next generation in business software, visit http://www.saleskatz.com.