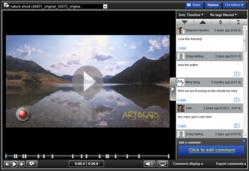 "Market7 brings new levels of productivity and flexibility to BET's production efforts," says Sheila Cole, senior director of post production for BET.
Boston, MA (PRWEB) May 21, 2012
Market7, Inc., a provider of web-based software for collaboration around creative content, today announces extensive engagement with BET Networks, the leading provider of content to black consumers globally. BET uses the video.Market7 platform to access and communicate about content at various stages of production for multiple scripted programs, pilots and original movies.
"Market7 brings new levels of productivity and flexibility to BET's production efforts," says Sheila Cole, senior director of post production for BET. "Employees and partners of BET from anywhere in the world can immediately access content at any stage, from daily shoots to finishing edits, and communicate clearly about production efforts on the video.Market7 platform."
Content of any length and in any common digital format can be uploaded to video.Market7. The service's Annotative Player module offers secure browser-based access on multiple devices, including all popular computers, tablets and smartphones. Video plays at high quality, accommodating users in limited bandwidth access situations, with integrated commenting that can reference specific portions of the video timeline and screen dimensions.
"BET is using the full capabilities of video.Market7 to clearly communicate about content, resulting in quick shaping of team consensus and streamlined productions," says Market7 CEO Seth Kenvin. "Working closely with global programming leaders like BET underscores Market7's advancement as a provider of robust platforms for media production in fast-paced, demanding and dispersed production environments."
BET is using video.Market7 to produce scripted programs and original movies that include The Game, Gun Hill and Being Mary Jane.
About BET Networks
BET Networks, a subsidiary of Viacom Inc., is the nation's leading provider of quality entertainment, music, news and public affairs television programming for the African-American audience. The primary BET channel reaches more than 90 million households and can be seen in the United States, Canada, the Caribbean, the United Kingdom and sub-Saharan Africa. BET is the dominant African-American consumer brand with a diverse group of business extensions: BET.com, a leading Internet destination for Black entertainment, music, culture, and news; CENTRIC, a 24-hour entertainment network targeting the 25- to 54-year-old African-American audience; BET Digital Networks - BET Gospel and BET Hip Hop, attractive alternatives for cutting-edge entertainment tastes; BET Home Entertainment, a collection of BET-branded offerings for the home environment including DVDs and video-on-demand; BET Event Productions, a full-scale event management and production company with festivals and live events spanning the globe; BET Mobile, which provides ringtones, games and video content for wireless devices; and BET International, which operates BET in the United Kingdom and oversees the extension of BET network programming for global distribution.
About Market7, Inc.
Market7 addresses needs of studios, agencies, corporations and other organizations as they produce media for a wide range of purposes, including entertainment, marketing and training. The company's flagship video.Market7 service supports all of the collaboration between video producers, their clients and any other parties involved in the process. This includes features for overall project management, conceptualization, pre-production like scripts and storyboards, and footage review during post. More information is available at http://www.market7.com.