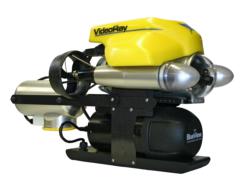 This is the beginning of a new generation of microROV navigation and control." - Scott Bentley, President VideoRay LLC
PHOENIXVILLE, PA (PRWEB) May 21, 2012
VideoRay and its partners announced today that they have shipped the first implementation of VideoRay CoPilot by SeeByte software, on a platform consisting of the VideoRay Pro 4 underwater Remotely Operated Vehicle (ROV), BlueView P900 series imaging Sonar, and Teledyne RDI Explorer Doppler Velocity Log (DVL). The first release of the SeeByte solution on a VideoRay ROV follows several months of software and hardware development by VideoRay and SeeByte partners. SeeByte adapted their unique navigation software to VideoRay's ROV control system and hydrodynamics. VideoRay worked closely with Teledyne RDI to adapt the Explorer DVL to a smaller, more hydrodynamic housing well suited to the powerful yet ultra-portable VideoRay Pro 4. BlueView contributed their industry-leading multibeam sonar, with ProViewer Plus advanced target tracking software by SeeByte.
The Defence Science and Technology Organisation (DSTO) is the Australian government's lead agency charged with applying science and technology to protect and defend Australia and its national interests. DSTO delivers expert, impartial advice and innovative solutions for Defence and other elements of national security to agencies like the Royal Australian Navy. DSTO is a world leader in defence science and technology – indispensable in transforming the Australian Defence Force and Australia's national security.
The system, purchased by DSTO, is the first observation class ROV system capable of autonomously following a pre-defined mission or maintaining station, regardless of changing currents and rough sea conditions. Using VideoRay Sonar CoPilot by SeeByte, the system can automatically identify underwater objects with the BlueView sonar, then on command fly to them. It can also track moving objects. In an Explosive Ordnance Disposal (EOD) context, this provides effortless automatic navigation to underwater locations, and therefore can remove divers from minefields and hazardous situations.
"We're proud of the capabilities we are creating in this market segment" said Bob Black, CEO of SeeByte. "We chose VideoRay because of their dominant market position, and our shared view of the future. We expect their dominance to grow as more of the world's Navies and Coast Guards – many of whom already standardize on SeeByte software for other tasks - upgrade to this solution. We also expect to see major sales in other markets, particularly Oil and Gas."
"SeeByte, VideoRay, and Teledyne RDI were already our partners when this project began" added Lee Thompson, CEO of BlueView Technologies. "We knew each was easy to work with, and this is a very good example of a game-changing usage of BlueView sonar systems – particularly with ProViewer Plus."
"VideoRay's implementation of our Explorer DVL was unique. The VideoRay hardware development team designed, fabricated, and tested it very quickly" said Bill Kikendall, Vice President and Group General Manager of Teledyne RDI." MicroROVs are a market that we anticipate will continue to grow rapidly. This joint development represents the first commercial implementation of a DVL in a microROV, and we believe it will result in a variety of new opportunities and applications."
Scott Bentley, VideoRay's President and Founder, summed it up. "This is the beginning of a new generation of microROV navigation and control. Up until now, piloting a ROV in challenging conditions, including swift currents and low visibility, required experience and effort. Working with companies like SeeByte, BlueView, and Teledyne RDI, we have integrated the VideoRay vehicle, software, and sensors to create autopilot capabilities that allow new pilots to be immediately successful, and experienced pilots to focus on other tasks. The ramifications are extremely important – both to the owners of more than 2,000 VideoRay systems we have delivered – and to those who are just now acquiring microROVs. It is amazing and noteworthy that four heavyweights of the underwater industry have collaborated on a tightly integrated solution to bring these revolutionary capabilities to market - at a price point never before achieved. User feedback has been overwhelming, and I expect this technology to grow rapidly."
About VideoRay
With more than 2,000 Remotely Operated Vehicles (ROVs) in service around the world, VideoRay is the global leader in Observation ROV technology. VideoRay is an extremely versatile, portable, affordable, and reliable solution for underwater operations including surveys, offshore inspections, search & recovery, homeland & port security, science & research, fish farming, and other unique applications in underwater environments. VideoRay is available on the General Services Administration (GSA) schedule. http://www.videoray.com
About SeeByte
Founded in Edinburgh, Scotland, SeeByte has been creating the most advanced awareness control systems for the latest generation of unmanned systems, including autonomous underwater vehicles and remotely operated vehicles since 2001. These technologies have been successfully integrated into a multitude of solutions for the military & security and offshore & subsea sectors.
SeeByte will be exhibiting at UDT 2012 in Alicante, Spain 2012 from May 29th-31st. Find out more on their stand H24.
About BlueView Technologies
BlueView Technologies, Inc. provides state-of-the-art compact acoustic imaging and measurement solutions for navy, energy, civil engineering, transportation and port security applications worldwide. Visit http://www.blueview.com .
About Teledyne RDI
Teledyne RD Instruments, a wholly owned indirect subsidiary of Teledyne Technologies, is a leading manufacturer of acoustic Doppler current profiling (ADCP); Conductivity, Temperature and Depth (CTD), and Doppler Velocity Log (DVL) products for scientific, commercial and military applications.
FOR MORE INFORMATION Please Contact:
VideoRay LLC
Brian Luzzi
Marketing Manager
Phone: 610-458-3000
brian(dot)luzzi(at)videoray(dot)com
http://www.videoray.com
SeeByte
Ioseba Tena
Sales Manager
Phone: +44 (0) 131 447 4200
ioseba(dot)tena(at)seebyte(dot)com
http://www.seebyte.com
BlueView Technologies
Rick Elento
Phone: +1 206 826 5835
rick(dot)elento(at)blueview(dot)com
http://www.blueview.com
Teledyne RD Instruments
Margo Newcombe
Director of Marketing
Phone: +1-508-539-6960
Mobile +1-858-335-6727
http://www.rdinstruments.com