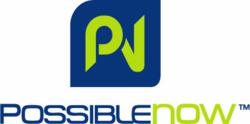 In today's competitive and multi-channel world, engagement is the name of the game.
Atlanta, Georgia (PRWEB) May 22, 2012
PossibleNOW, the leading provider of marketing compliance and preference management solutions, was honored with the "Partner in Progress" award by the Professional Association for Customer Engagement (PACE) during its annual convention and expo. Formerly known as the American Teleservices Association, the organization announced its new name and focus on customer engagement at the event. The award was earned through PossibleNOW's innovation and leadership in consumer preference management and engagement solutions.
"In many ways, this distinction reflects the new direction our organization has chosen," said Scott Frey, President and CEO of PossibleNOW. "In today's competitive and multi-channel world, engagement is the name of the game. The MyPreferences SaaS solution that PossibleNOW offers for preference management enables organizations to engage with consumers in ways that align with their needs and desires. That interaction is at the center of PACE's new vision and purpose."
The award was presented at PACE's annual convention and expo, held this year under the theme "Managing Customer Experience in a Digital World." The event featured presentations from PossibleNOW's John Housley on understanding customer choice and Ken Sponsler, of CompliancePoint, a PossibleNOW company, on embracing multi-channel permission marketing.
"PossibleNOW has been a leading voice in our association for more than a decade," said Phil Grudzinski, CEO of PACE. "Scott's vision for consumer preference management has helped define our industry and empower businesses to work with – not against – consumers."
About PossibleNOW
PossibleNOW, headquartered in metro Atlanta, Georgia, is the trusted source for consumer compliance and preference management solutions. PossibleNOW leverages its expertise in information technology, database management, and consumer privacy and regulatory compliance to provide cloud-based applications and solutions. PossibleNOW's MyPreferences™ is an enterprise preference management solution that effectively collects and manages the contact and privacy preferences of customers and prospects including servicing, privacy, and marketing (opt-in and opt-out) across all marketing channels and makes the preference data actionable. The DNCSolution® suite of cloud-based services provides comprehensive tools that help direct marketers comply with federal and state Do Not Contact legislation (Do Not Call, Do Not Fax, Do Not E-mail, Do Not Mail). For more information, call (800) 585-4888 or (770) 255-1020, e-mail info(at)possiblenow(dot)com or visit http://www.possiblenow.com.