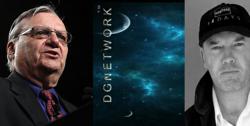 "What do you want me to be a self-proclaimed nicest sheriff in America? I'm not a social worker, I'm a cop so I'm tough - that's good - if i want to call myself tough - that's good too"
Los Angeles, CA (PRWEB) May 20, 2012
DG NETWORKS announced that Sheriff Joseph M. Arpaio of Maricopa County in the State of Arizona United States, will join David William Gibbons on the unique legacy programming "In Discussion" on Monday, May 21 @ 5:00 pm Pacific/8.00pm Eastern/24.00 GMT at http://www.glntv.tv/dgnetworks
Arpaio was born Joseph M. Arpaio in Springfield, Massachusetts on June 14, 1932, to Italian parents both from Lacedonia, Italy. Arpaio's mother died while giving birth to him, and his father, a grocery store owner, raised Arpaio. Arpaio completed high school and worked in his father's business until age 18 when he enlisted in the United States Army. Arpaio served in the Army from 1950 to 1954 in the Medical Detachment Division and was stationed in France for part of the time as a military policeman. Following his discharge in 1954, Arpaio moved to Washington, D.C. and became a police officer, moving in 1957 to Las Vegas, Nevada. He served as a police officer in Las Vegas for six months before being appointed as a special agent with the Federal Bureau of Narcotics, which later became part of the Drug Enforcement Administration (DEA). During his 25-year tenure with the DEA, he was stationed in Argentina, Turkey and Mexico, and advanced through the ranks to the position of head of the DEA's Arizona branch. First voted into office in 1992, Arpaio is responsible for law enforcement in Maricopa County. This includes management of the Maricopa County Sheriff's Office, county jail, courtroom security, prisoner transport, service of warrants, and service of process. Arpaio styles himself as "America's Toughest Sheriff." He is well known for his outspoken stance against illegal immigration. Arpaio has become a flashpoint for controversy surrounding Arizona's SB1070 anti-illegal immigration act. He is also known for his investigation of President Barack Obama's citizenship. Arpaio married his wife Ava in 1958. Together, they have two children and four grandchildren. They currently reside in Fountain Hills, Arizona. This program explores the personal perspectives and journey of Sheriff Joseph M. Arpaio, through a rare and unique deep conversational style offered by Broadcaster /Historian David William Gibbons.
DG Networks broadcasts daily (Monday - Friday) at 5:00 pm Pacific/8:00 pm Eastern/24:00 GMT - Saturday Edition and Sunday Omnibus 3.00pm Pacific/6.00pm Eastern/22.00 GMT at http://www.glntv.tv/dgnetworks
To access programs, register/log in at http://www.glntv.tv/dgnetworks
About DG NETWORKS:
Since 2009, David William Gibbons has created the future's media, communication, engagement and facilitation forum for emerging global communities and conscious governance. International radio and television programs provide a distinguished public forum from around the globe through unique eclectic panels and personal discovery. The programs are crafted and continue to evolve as record and testament to an evidenced world shift currently taking form, through legacy shaped deep discussions. Information on the history and making of programs can be reviewed at the official website http://www.davidgibbons.org/index.html
DG NETWORKS: Patrick J. O'Brien + 00 (1) 321 615 7255 / 1-866 481 0141 / patobrien(at)live(dot)com