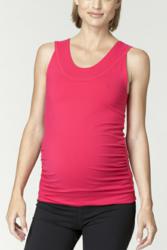 Johnson City, TN (PRWEB) May 22, 2012
StylishFitnessClothes has announced its 2012 spring and summer line of maternity workout clothes. This new selection features clothing created for pregnant women that combines fashionable designs with comfortable fabrics designed to move with the wearer. The goal of the line is to allow expecting moms to remain active during their pregnancies without concern for appropriate attire. The line includes all pieces a mom-to-be would need for a comfortable workout wardrobe. The maternity activewear offered by the online retailer is interchangeable, so shoppers can build a small workout ensemble by mixing and matching various pieces.
Because active moms often struggle to find clothes that fit comfortably, the maternity yoga pants, capris and fitness pants offered by StylishFitnessClothes feature elastic waistlines and drawstrings to accommodate the growing belly while still staying in place during an active workout. Materials used in the line include moisture wicking fabrics and poly spandex for added stretch, so the expectant mom is kept comfortable while looking great during her workout. Specifically, the fabrics were designed to prevent chaffing and keep the wearer's skin cool and dry. This can help expectant moms avoid overheating during a workout, which is particularly important during this time of life.
With the maternity workout clothes in this line, the modern mom can remain active up until her delivery date. StylishFitnessClothes offers clothing for yoga, walking, jogging and other appropriate maternity exercises. In addition to the maternity line, the retailer also offers stylish workout clothing for both men and women.
StylishFitnessClothes is a privately owned company located in Johnson City, TN. For more information, please visit StylishFitnessClothes at: http://www.stylishfitnessclothes.com/