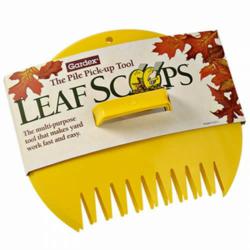 Elma, NY (PRWEB) May 20, 2012
The Made In America Store brings its customers an easier way to clean up the lawn with Leaf Scoops from Gardex. The lawn & garden tool makes moving piles of leafs, grass clippings and anything else that needs more than a set of hands to pick up, a lot easier and more efficient.
Gardex's Leaf Scoops share the department shelves with Bully Tools, Dig Rigs, Tuff Guard Watering Hoses, Koil Wraps and a variety of more lawn & garden products. Every tool in the department, as the rest of the Made In America Store, is 100% American made. Every component of every product is made in the U.S. and Gardex fits the strict needs that the Made In America Store asks from their vendors.
Consumers looking for the perfect Pile Pickup Tool can shop for Gradex's Leaf Scoops by visiting http://www.MadeInAmerica Store.com or placing an order by phone with 716-652-4872
Leaf Scoops offer a safe and fast multi-purpose tool to easily pick up piles of leaves, pine needles, thorns or poisonous plant trimmings and more. The rake "teeth" provide complete cleanup of residue from leaf piles. The Leaf Scoops also have the ability to easily spread peat moss and mulch. The Pile Pickup Tool also gives an alternative to picking up garbage or other things people would rather not touch.
The Gardex brand of lawn care tools has a rich manufacturing history including supplying the original Victory Garden rake during World War II. Gardex is a fully integrated, 75 year old U.S. manufacturing company.
The Made In America Store is located at 900 Maple Road in Elma, New York and is committed to selling 100% American manufactured products. You can visit http://www.MadeInAmericaStore.com for more information or shop our catalog of over 290 vendors that are devoted to producing USA made products. All US military personnel both active duty and retired receive a discount every day. Consumers can also keep up to date news articles, events, photos and contests with Facebook, Twitter, Google+, Pinterest and Tumblr!