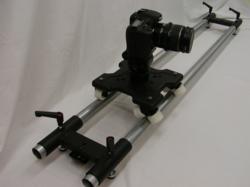 I like the idea that I don't need to bring both a fixed linear slider and a table top slider to a shoot, with the Green Light DP dolly it's as quick as two bolts and I'm ready to go, track or table.
Lusby, MD (PRWEB) May 21, 2012
Most sources for DSLR camera rigs and accessories are simply re-sellers. Green Light Manufacturing is different in their approach as a full service design and manufacturing company, with the ability to support, repair and customize the gear based on the customer's requirements. The company is a "work for hire" design to machine shop to product finishing and final packaging solution for cinema parts in quantities of one or a thousand. Green Light's unique cinema gear experience and resources support the Lanparte line of gear as well as specific mounting plates for many DSLR camera models and the new Blackmagic Cinema Camera system.
Green Light's DP Dolly is a dual purpose dolly machined out of aluminum and anodized featuring a unique zero bind wheel arrangement. The DP Dolly provides a "smooth as glass" motion because it uses glass bearings! Green Light engineered the rail system around standard EMT electrical conduit for easy sourcing and to keep costs low. Swap two of the wheels and the DP Dolly transforms into a table top dolly with the ability to maneuver both straight line and arc movements. The Dual Purpose dolly also features in-house manufactured wheels, designed and produced to our specifications. Substantial time and effort went into researching the best wheel material, providing the perfect compromise between smooth and zero noise.
Green Light searched high and low for a line of rigs and gear that best reflect the values and features important to our customers. Lanparte stood head and shoulders above the rest for excellent quality and first rate customer service. Green Light paired not only carbon fiber rods to the line of Lanparte rigs, but also Titanium. The Titanium rods are cut to size in-house, stocked in 8", 12", and 24" lengths and custom cut to any size in between. An excellent upgrade to the Lanparte line of rig components, the Titanium rods maintain an excellent strength to weight ratio, important with the added weight that today's accessorized camera systems require.