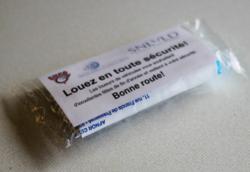 (PRWEB) May 22, 2012
Effective July 1st, 2012, all motorists in France will be required to have a disposable breathalyzer kit in their car for use for a self-check that they are not driving over the limit after drinking alcohol (Holidaymakers in France told to carry breathalysers in their cars, 21 February 2012, Daily Mail).
Auto Europe, a leader in worldwide car rental services, ensures that all rental vehicles that they contract include safety equipment such as road flares, reflective triangles and now, with the new ruling in France, mandatory breathalyzers in all passenger vehicles at any of the 1,500 locations in the French provinces that they service.
In addition to required equipment, you can also request special equipment with Auto Europe at time of booking including baby seats, GPS units with local mapping and to be prepared for winter traveling, ski and luggage racks, tire chains and winter tires.
In addition to self-drive, Auto Europe also offers chauffeur drive services, prestige and sports car rentals or motor home rentals for the RV adventurer.
Auto Europe services over 8,000 car rental locations in over 130 countries worldwide. In addition, through their air division they offer scheduled flights to Europe with over thirty carriers. Their hotel division, Excellent Hotels offers 3, 4 & 5 star worldwide hotels. Visit their web site for car rentals and other services.