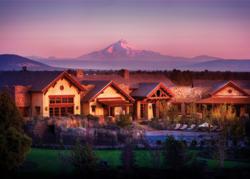 The partnership with Auberge is the first of many positive developments following our recent acquisition and we're excited to enhance Pronghorn's past successes with our future vision
Bend, OR (PRWEB) May 21, 2012
Pronghorn Golf Club & Resort, a luxury golf destination and community in Central Oregon, announced today that Auberge Resorts will assume management of the highly acclaimed development's 48-suite lodge and other resort facilities, including multiple restaurants, full-service spa and more. Pronghorn joins a collection of acclaimed Auberge properties renowned for their spectacular settings, extraordinary restaurants and spas and highly personalized service, including Napa Valley resorts Auberge de Soleil, Calistoga Ranch and Solage Calistoga; Esperanza, Cabo San Lucas, Mexico; The Inn at Palmetto Bluff, Bluffton, SC; and many more. This announcement comes on the heels of The Resort Group's acquisition of the property in February, ushering in a new era of growth and stability for Pronghorn Golf Club & Resort.
"The partnership with Auberge is the first of many positive developments following our recent acquisition and we're excited to enhance Pronghorn's past successes with our future vision," said Randy Koss, Managing Partner of Pronghorn Golf Club & Resort. "We're confident that the upcoming changes will have a very positive impact on current and future homeowners, members, resort guests and the local community."
Based in Honolulu, HI, The Resort Group has extensive experience creating world-class luxury resorts, including Princeville at Hanalei (Kauai, HI), Ko Olina Resort & Marina (Oahu, HI). The partnership with Auberge Resorts is part of the company's plan to further enhance Pronghorn's position as a world-class destination and the first luxury-branded, five-star resort in the Pacific Northwest.
"We are delighted to take over the helm of this stunning golf resort and community and honored to help create what will be the premier luxury resort in the Pacific Northwest," said Mark Harmon, principal and chief executive officer of Auberge Resorts. "We are also pleased to expand our portfolio of private residence clubs to six and offer members additional choices for family vacations and romantic getaways."
Situated on 640 stunning acres in Central Oregon, Pronghorn Golf Club & Resort features a 48-suite luxury lodge, which opened to the public in 2010, two championship golf courses designed by Jack Nicklaus and Tom Fazio and managed by Troon Golf, full-service spa, multiple restaurants and a variety of real estate options, including custom homes, condos and home sites. Guests and homeowners have unparalleled access to countless outdoor activities such as hiking, mountain biking, rafting, fly-fishing on the nearby Deschutes River and skiing at Mt. Bachelor, North America's 5th largest ski area.
Pronghorn's many accolades include:

#43 in Golf Digest's "75 Best Golf Resorts in North America" in October 2011
#23 (Nicklaus) in Golf Digest's list of "America's 100 Greatest Public Courses" in May 2011
#12 (Fazio) in Golfweek's ranking of the "Best Residential Courses"
Finalist for "Best New Wedding Venue" by Oregon Bride in 2011
Future plans also call for improved homeowner, member and guest amenities, additional resort development, a variety of additional real estate offerings, and more. For real estate inquiries contact Cascade Sotheby's International Realty at Pronghorn at 541-693-5411 and for general resort inquiries contact Spencer Schaub at 541-693-5300.
About Pronghorn Golf Club & Resort
Pronghorn Golf Club & Resort has received recognition as the premier, private golf community in the West and was first to offer a Jack Nicklaus Signature Golf Course and Tom Fazio Championship Golf Course side-by-side. In May 2010, Pronghorn Golf Club & Resort became semi-private and opened to the public with a 48-all-suite resort, complete with a gourmet kitchens, jetted tubs, fireplaces, flat-screen televisions and outdoor fire pits. Pronghorn Golf Club & Resort also features a golf academy, The Trailhead, a facility for family recreation and outdoor pursuits, world-class clubhouse, full-service spa and immediate access to Central Oregon's numerous outdoor activities. For more information, please visit http://www.pronghornclub.com/
About Auberge Resorts
Auberge Resorts is a collection of exceptional hotels, resorts and private clubs, each with a unique personality that assures a memorable guest experience. While Auberge Resorts nurtures the individuality of each establishment, all are characterized by a set of communal elements: intimate, understated elegance; captivating locations that inspire exceptional cuisine and spa experiences; and gracious yet unobtrusive service. Among the Auberge Collection of distinctive properties are: Auberge du Soleil, Calistoga Ranch and Solage Calistoga, all in Napa Valley, Calif.; Esperanza, Cabo San Lucas, Mexico; The Inn at Palmetto Bluff, Bluffton, S.C.; Hotel Jerome, Aspen Colo.; Auberge Residences at Element 52, Telluride, Colo.; the Aspen Club, Aspen, Colo.; and Auberge Residences at Mammoth, Mammoth Lakes, Calif., with several others currently in development. For more information about Auberge Resorts, please visit http://www.aubergeresorts.com.
About The Resort Group
Helmed by real estate visionary Jeff Stone, The Resort Group acquires, master develops, repositions and markets domestic and international mixed use and master-planned resorts, creating world-class communities with a powerful sense of place. The company is a leader in working with hospitality brands and management companies to develop design concepts for luxury resort products and strategies for their ongoing operation in ways that maximize cash flow and long term appreciation.