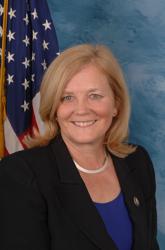 Everything I needed to know about politics, I learned by living on an island.

U.S. Representative
Chellie Pingree
Portland, Maine (PRWEB) May 19, 2012
The University of New England granted 1,183 associate's, bachelor's, master's and doctoral degrees, representing the College of Arts and Sciences, Westbrook College of Health Professions, College of Osteopathic Medicine, and College of Graduate Studies. Each college recognized its own student achievements at pinning and hooding ceremonies throughout the week.
Citing the creative and entrepreneurial spirit as "the DNA of UNE," President Danielle Ripich reflected on the collective journey of students and the university over the past few years: "We have been – are – explorers, risk takers, innovators. We recognize and honor our strengths by innovating with optimism."
Ripich said UNE is moving beyond the borders of the United States to embrace an increasingly global society by building a new UNE campus in Morocco (scheduled to open in 2013) and entering into agreements for study abroad and research with two universities in Seville and Granada. She said UNE graduating students – some of whom traveled to Spain, Morocco, Greece, Ghana, Peru and other countries – were the pioneers of these programs.
In her keynote speech, Congresswoman Pingree shared how life on the island of North Haven, Maine, has been the source of most of her life lessons and teachings: "Everything I needed to know about politics, I learned by living on an island," she said, citing simple lessons such as never passing up the chance for good conversation, and doing your best never to leave conflicts unresolved.
Pingree called the town meeting "one of the most traditional and purest form of government and still the governing practice of many rural towns in New England."
She added, "It can get heated…when people disagree on anything from how well the road commissioner did plowing the snow and ice the past winter to whether the taxes should be raised to replace a wing of the school. When people have a say over their own governing, the debates can be fierce – but in the end there is a vote, we make a decision and move on to the next item… and we are all reminded that you can't fight too long with the plumber if you need him to fix your frozen water pipes, or stay angry at the parents of your daughter's best friends, if she wants to have a play date. In the end, every conflict has to come to an end if we're all going to see each other every day."
The UNE College of Osteopathic Medicine graduated 131 physicians at the commencement ceremony, including seven dual DO/Master of Public Health and nine Master of Medical Education Leadership degree recipients. In its afternoon hooding ceremony at Merrill Auditorium, the College of Osteopathic Medicine awarded its Pioneer of Osteopathic Medicine Medal, the college's highest honor, to UNE President Emeritus Sandra Featherman, Ph.D.
About University of New England
The University of New England is an innovative health sciences university grounded in the liberal arts. UNE has internationally recognized scholars in the liberal arts, sciences, health and medicine; offers more than 40 undergraduate, graduate and professional degree programs; and is home to Maine's only medical school. Its two distinctive campuses in Biddeford and Portland, Maine offer student-centered interdisciplinary programs in the Westbrook College of Health Professions, College of Osteopathic Medicine, College of Arts and Sciences, College of Pharmacy, and College of Graduate Studies. The College of Dental Medicine will enroll its inaugural class in 2013. For more information, visit http://www.une.edu.