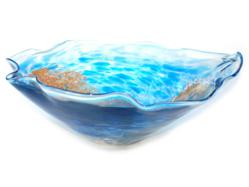 Turn your bathroom into a conversation piece with a modern vessel sink/
Puslinch, ON (PRWEB) May 22, 2012
VesselSinks.com a brand new website that specializes in vessel sinks, faucets, and drains -- wants to turn ordinary bathrooms into full-fledged conversation pieces.
Vessel sinks sit on top of counters, instead of being built-in, so they look more dramatic than a traditional sink. They come in a variety of shapes and materials -- like glass sinks, stone sinks, and copper sinks. Vessel faucets come in a number of finishes, shapes, and sizes. Combined, vessel faucets and sinks look more like modern art than a bathroom fixture.
For people who are trying to sell their homes, vessel sinks can be a conversation piece that's also profitable. Since most homebuyers are looking for upgrades -- especially in the bathroom -- adding the right vessel sinks and faucets can make the entire room look more modern. Home improvement experts say that an upgraded bathroom can increase the value of a home by as much as 120%.
As for its own products, VesselSinks.com has a strict screening process in place, and they only work with the biggest names in the decorative plumbing industry. They have already formed partnerships with Eden Bath, Kraus, Vigo, JSG Oceana, Flotera, and Fontaine.
The team at VesselSinks.com believes that it should be easy for home and business owners to upgrade their bathrooms with the most modern features -- which is why they offer an online catalog and a toll-free number to help customers with their purchases.
For more information, log on to http://vesselsinks.com