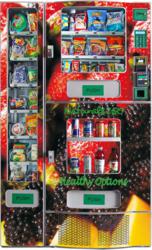 Fort Lauderdale, FL (PRWEB) May 20, 2012
Fort Lauderdale resident Bob Malloy wanted to be involved in a business which could improve people's diets while reflecting his own active lifestyle. "People are more health conscious today," he noted. "Schools and workplaces are setting the example by providing better snack options. More and more businesses are trying to support employees looking for ways to make healthier lifestyle choices. Several local resorts love the idea of providing guests healthier options in a sophisticated vending machine."
Enter Naturals 2 Go -- an Idaho-based vending company with over 20 years in the business. Malloy is passionate about health and fitness and loves how the company offers nutritionally sound snacking and beverage options for busy, active people. "Healthy vending machines bring to your school or office natural, organic and preservative-free snacks and beverages," he said.
Malloy added that he was impressed with the Naturals 2 Go machine because it employs sophisticated technology in offering purchases by credit and debit cards, as well as cash. The machine houses a virtually silent cooling unit to keep snacks fresh. Onboard cellular communication technology provides Malloy realtime reports to keep selections available at all times.
Malloy has a long history working in the health insurance industry as a health care consultant for many of the largest Medicare plans in the country. For fun and relaxation, he enjoys using his kitchen skills to create nutritious gourmet fare for family and friends.