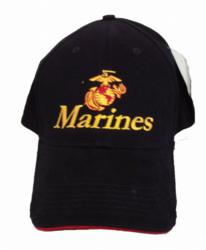 Elma, New York (PRWEB) May 21, 2012
The Made In America Store responds to the growing demand for military caps. Each branch of the military is represented on these all-American made hats. Commitment to the US soldier has always been a priority and now caps branding each military branch will now have their own rack in the store.
Consumers interested in 100% American made hats can visit http://www.MadeInAmericaStore.com. Each hat represents a branch of the military.
To a lot of consumer's surprise, quite a few of the military branch hat and cap brands were made overseas, not to mention pins, t shirts and other merchandise. The Made In America Store is reversing the trend of making products with the cheapest materials usually associated with overseas products, and bringing back quality merchandise made by Americans.
The all American caps have emblems representing the Army, Air Force, Marines, Navy, Coast Guard and POW/MIA. Each hat has a strap on the back to guarantee it fits to any size needed.
Consumers interested in the Military Branch caps can visit http://www.MadeInAmericaStore.com or call 716-652-4872 to place an order.
"We build with quality in mind as a priority," insists Mark Andol, owner of the Made In America Store, "There needs to be more emphasis on quality in today's market in manufacturing, not cheap-throw away items."
Armed Forces Day, which is May 19th this year, honors all the men and women in all branches of the service who protect our country. People should recognize the individuals that can be called upon at any given notice to perform tasks for freedom and country.
The Made In America Store is located at 900 Maple Road in Elma, New York and is committed to selling 100% American manufactured products. You can visit http://www.MadeInAmericaStore.com for more information or shop our catalog of over 290 vendors that are devoted to producing USA made products. All US military personnel both active duty and retired receive a discount every day. Consumers can also keep up to date news articles, events, photos and contests with Facebook, Twitter, Google+, Pinterest and Tumblr!