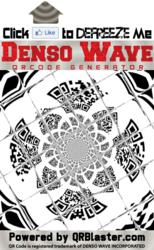 Santa Rosa Beach, FL (PRWEB) May 20, 2012
QR Blaster has been chosen to create a QR Code Generator application for use on Facebook. QR Blaster already supplies Quick Response codes at http://www.qrblaster.com where members can create codes for 45 different options, as well as change design on the fly.
Invented by the Toyota subsidiary Denso Wave in 1994, the QR Code is one of the most popular types of two-dimensional barcodes. QR Code scanning by smartphones has exploded in the past year, and 2012 is no exception.
"We were excited and flattered to be chosen for this project, said Paul Vizard, Founder of QR Blaster. This is validation of our code generator flexibility and features. We anticipate further application development together in this explosive market.
Facebook application users can visit the Denso Wave Facebook page, http://www.facebook.com/DensoWave/app_339318336105947 and click the "like" button to use the code generator application.
Also launched by premier QR Code creator site, http://www.qrblaster.com is the fast scanning QR Code Scanner, and QR PriceFinder apps now available in the iphone app store free of charge.
"This latest addition to our list of QR Code tools enables users to scan a product in a store or wherever they see a product code, scan it and the app will search for the lowest price, said Mike McGuinness, VP of Sales. QR Blaster (http://www.qrblaster.com) is at the forefront of the QR Code market, and expects to launch many more QR Products in 2012."
An example search of a camera at a popular Best store revealed a similar product available online at a lower cost at Amazon.com
QR Code shopping is on the rise, with online sites placing codes next to products, or using traditional marketing alongside the QR Codes to nudge shoppers to online checkout websites.
Asia has already created virtual stores using pictures and QR Codes, and in Europe and bigger cities nationwide, the popularity of QR codes has exploded.
The QR Code PriceFinder App is free, and is available for download at the Apple App Store, or at http://www.qrpricefinder.com
About QR Blaster
QR Blaster is a leading provider of QR code generators, custom QR Code high end design for Fortune 500 companies, online applications, smartphone apps, and sms solutions.
Contact
Mike McGuinness
qrcodes(at)qrblaster(dot)com
http://www.qrblaster.com