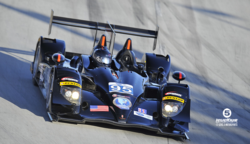 Madison, WI (PRWEB) May 18, 2012
Scott Tucker's Level 5 Motorsports team recently announced the arrival of new driver Franck Montagny. The experienced Frenchman made an immediate impact by playing a crucial role in Level 5's stunning P2 class win at Monterey last weekend. The 3rd round of the 2012 American Le Mans Series was held at the Mazda Raceway Laguna Seca and the Level 5 #95 HPD-ARX-03b car finished in second place overall.
Alongside co-drivers Scott Tucker and Luis Diaz, Montagny's impressive driving in the last part of the race helped secure the P2 class win for the Level 5 Motorsports team. When Montagny took over driving duties for the final section of the race he posted the fastest P2 lap time of the race. Montagny fended off a strong challenge from their P2 class rival Conquest Endurance to seal the win.
In a thrilling climax to the race Montagny was pushed all the way by Conquest Endurance's Brazilian driver Antônio Pizzonia. Both Montagny and Pizzonia are former Formula One drivers and renewed a friendly rivalry that stretches back almost 10 years. Montagny is no stranger to success at the Mazda Raceway Laguna Seca. When he made his debut there in 2008 he scored a victory in the LMP2 class alongside Brazilian Tony Kanaan. The pair drove their Acura ARX-01b to victory for the Andretti Green Racing team.
About Level 5 Motorsports
Level 5 Motorsports has fielded successful entries in GT and Prototype classes in the American Le Mans Series, GRAND-AM Rolex Sports Car Series, Ferrari Challenge Series, Cooper Tires Prototype Lites, IMSA GT3 Cup and the Sports Car Club of America since 2008. The team has competed throughout North America and Europe, extensively in France and Spain. Team owner and driver Scott Tucker has earned five national championships and has more than 100 podium finishes and 75 victories in his driving career. Level 5 is based in Madison, Wisconsin.