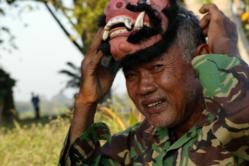 The mentally ill were more troubled by the response of their family and community to their condition than by their ailment.
Los Angeles, CA (PRWEB) May 22, 2012
The first film series to look at mental illness in the developing world was released today by documentary film company Elemental Productions. "Afflictions: Culture & Mental Illness in Indonesia" (http://www.afflictionsfilmseries.com), is an award-winning compilation of six films about the lives of men, women and children living with schizophrenia, bi-polar disorder, anti-social personality disorder and Tourette's syndrome in Bali and Java. Directed by anthropologist and documentary filmmaker Dr. Robert Lemelson, "Afflictions" is screening as an official selection at conferences and festivals worldwide and is available for purchase at Amazon.
An International Documentary Award nominee and CINE Golden Eagle winner, "Afflictions" was shot by a team of veteran Hollywood and local Indonesian filmmakers. The series was inspired by a landmark World Health Organization research project demonstrating that the prognosis for patients diagnosed with severe mental illness is significantly better in developing nations than industrialized nations. Through compelling, poignant and informative narratives, "Afflictions" shines a light on important findings for the care and treatment of the mentally ill in North America, other industrialized nations and the developing world.
Mentally Ill More Troubled by Family and Community Reactions than by Ailment
"I began with a strong vision of what I wanted to investigate, but without a pre-conceived notion of the outcomes," said Dr. Lemelson. "Over time, it became clear that the mentally ill whose lives I was chronicling were more troubled by the response of their family and community to their condition and their personal struggle to be a valued community member than by their ailment. It is my hope that 'Afflictions' will help educate patients and their families and impact decisions by mental health practitioners and policymakers."
About the Films and Findings
The result of more than a decade of research, each of the six "Afflictions" films—"Memory of My Face," "The Bird Dancer," "Family Victim," "Ritual Burdens," "Shadows and Illuminations" and "Kites & Monsters"— looks at the impact of culture, family and community on the lives of an adult or child suffering from schizophrenia, bipolar disorder, personality disorder or other serious mental condition. Themes emerge with universal impact, including: how family members treat the mentally ill shapes outcomes, both positive and negative; culture has the power to protect and buffer the mentally ill or exacerbate their condition; to understand the experience of the mentally ill, it is essential to understand their cultural universe and values; and pharmaceutical treatment yields mixed results.
A New Perspective on Serious Mental Illness
One in 17 Americans live with a serious mental illness and 450 million, worldwide, suffer from a mental or behavioral disorder. In the west, serious mental illness is increasingly viewed through the lens of biomedicine, as demonstrated by the contents of the American Psychiatric Association's (APA) Diagnostic and Statistical Manual of Mental Disorders (DSM), which is scheduled for update in May 2013. "Afflictions," in contrast, is based on transcultural psychiatry, a growing field that brings a cultural perspective to psychiatric research and practice.
Professional Reactions
"Cinematographically rich and compelling. I know of no other films that so powerfully convey the complex place of culture in mental illness." Byron Good, Harvard Anthropologist, Director of Programs in Global Mental Health in the Department of Social Medicine
"Not satisfied with biological explanations of these patient's problems, Lemelson's films remind us that psychiatric practices have non-psychiatric implications, specifically around family relations, historical meaning-making, and even implications related to the freedom of individuals with mental health problems." Andrew Rasmussen, NYU Assistant Professor School of Medicine, Research Director at Bellevue/NYU Program for Survivors of Torture
About Elemental Productions
Elemental Productions (http://www.elementalproductions.org) is a Los Angeles-based independent film company focusing on personal experience, culture and mental illness in Indonesia and the United States. "Afflictions: Culture & Mental Illness in Indonesia" is Elemental's second release after "40 Years of Silence: An Indonesian Tragedy," a feature-length film about the impact on four families of Indonesian President Suharto's violent purge of suspected communists. Elemental was founded in 2007 by Dr. Lemelson, an adjunct professor at the University of California, Los Angeles (UCLA) Department of Anthropology and research anthropologist at UCLA's internationally renowned Semel Institute of Neuroscience and Human Behavior in its Center for Culture and Health.