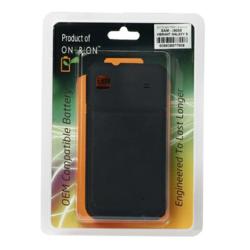 Samsung Vibrant users can enhance their no contract T mobile plan with new long lasting extended battery from Ontrion
Dallas,Tx (PRWEB) May 19, 2012
In an effort to save money, smartphone users are opting out of their expensive contracts and choosing a more affordable no-contract cell phone service provider instead, like T Mobile. All that money saving, however, isn't going to do them much good if they are having to replace their phone's battery on a frequent basis. OnTrion, the manufacturer of premium OEM-quality cellphone batteries, has just released an extended battery for T Mobile's Samsung Vibrant model. With one of these replacement batteries on hand, Samsung Vibrant owners can maximize the life of their phone while minimizing the overall cost of using a smartphone.
Last year, CNN reported that almost 30 percent of all cell phone users in the United States were without contracts, up from 20 percent in 2008. As Consumer Reports points out, this increase in no-contract plans is all in an effort "to cut cost." To make the most of their cost-cutting efforts, Samsung Vibrant users can enhance their no-contract T Mobile plan with the new long-lasting extended battery from OnTrion.
For more information on how much an OnTrion extended life battery can increase the air time of the Samsung Vibrant on T Mobile, contact Jesse Khurana toll-free at (877)676-0877. To see all the extended cellphone batteries the company manufactures, visit http://www.ontrion.com.
About OnTrion
OnTrion is a veteran manufacturer of branded mobile phone batteries, chargers, Bluetooth and other mobile accessories. The OEM-quality batteries the company produces come in both standard and extended varieties and are compatible with all the latest smartphone models. OnTrion is committed to providing its customers and distributors with the highest-quality products and services, thereby instilling 100% trust, faith and satisfaction in them. As such, innovation, ruggedness and exceptionality are the cornerstones behind every OnTrion product.
Follow us on Twitter: http://www.twitter.com/ontrionbattery
Like us on Facebook: http://www.facebook.com/ontrion
Contact Information:
Palki Kochar
13650, TI Blvd., Suite #309
Dallas, TX 75243
(877)676-0877
http://www.ontrion.com