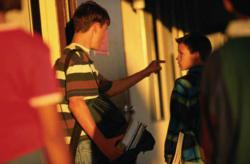 This webinar will help educators identify and then eradicate bullying at their schools
Salt Lake City, UT (PRWEB) May 21, 2012
Bullying is one of the most pervasive problems affecting our schools today, and one that, try as they may, educators and parents struggle and often fail to control.
As an educator, one of the most difficult things about bullying is identifying when it's happening. It's an activity that largely flies under adult radar. In order to help educators identify and then eradicate bullying at their schools, the National Crime Prevention Council (NCPC)—the creators of McGruff the crime dog—in partnership with education company School Improvement Network will present a free webinar to entitled "Bullying: Understanding the Problem, Defining Solutions." The webinar will be broadcast live on Wednesday, May 30, 2012, at 3 p.m. Eastern Daylight Time.
During the webinar, Robin Young of the NCPC will provide an overview of the bullying problem and describe strategies that can be used to assess the problem, identify effective prevention programs, and outline effective behavior policies.
Click here to register for "Bullying: Understanding the Problem, Defining Solutions."
To learn more about bullying prevention, and over 100 other professional development topics for educators, sign up for a free 30-day trial of PD 360, the biggest online professional development platform in the world.
About School Improvement Network
Founded in 1991 by teachers, School Improvement Network provides comprehensive, research-based, online professional development anytime, anywhere. As the home of The Video Journal of Education, online professional development platform PD 360, Observation 360, the Learning 360 Framework, Equity 360, and Common Core 360. School Improvement Network resources focus on the most relevant topics (like bullying at school), feature the top experts, and show educators how to put theory into practice. School Improvement Network works with thousands of schools and districts in every state and around the world and has visited over 3,500 classrooms to document best practices in action. Learn more at http://www.schoolimprovement.com
About PD 360
PD 360 is an educational tool that has grown to become the world's first and largest on-demand professional development platform. PD 360 answers the professional development issues for each teacher in any district—poor or affluent, rural or urban. Online professional development with PD 360 gives educators the most online tools in the industry including 2,000+ PD videos, 120 experts, 117 topics, like bullying, with new content added every month and an 822,000-member online professional learning community (PLC). Learn more at http://www.schoolimprovement.com/pd360.
School Improvement Network, PD 360, Common Core 360 and their respective logos are trademarks of the School Improvement Network. All other trademarks and registered trademarks are the property of their respective owners.
Press Contact:
Duane Sprague
School Improvement Network
801-758-9546
duane(dot)sprague(at)schoolimprovement(dot)com