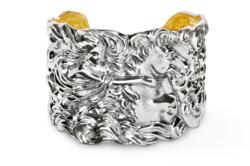 Bold classic silver cuffs appeal to a confident woman, and the epitome is the horsewoman.
Baltimore, MD (PRWEB) May 22, 2012
American Estate Jewelry, whose classic silver cuffs by Galmer Fine Silver have developed a following among the horse set, has announced it will showcase horse-inspired luxury sterling jewelry and home items at HITS-on-the-Hudson, the renowned international hunter/jumper horse shows which have been a fixture during Hudson Valley summers for 20 years. Currently sold via its website and through select fine jewelry stores, the American Estate Jewelry will now venture into an alternative distribution venue, selling directly to a highly-targeted customer as part of The Art House exhibition. The first HITS occurrence begins on May 23, and the summer season culminates with the HITS Championship Weekend beginning August 29, 2012.
"Our bold, classic approach to design appeals to confident women, and has been a big hit among horsewomen," notes Carolyn O'Keefe, president of American Estate Jewelry. O'Keefe notes that horsewomen gravitate not only to The Horsewoman Cuff but to the strong floral patterns of The Sunflower Cuff and, more recently, The Vineyard Cuff. "These jewelry pieces make a lifestyle statement, so a literal horse-motif is not as important as the strength of the jewelry's design and quality of the silver," says O'Keefe.
The jewelry collection, all created by USA-based Galmer Fine Silver, will include horse-themed items for the home developed by Michael Izrael Galmer, himself an enthusiastic rider. In fact, Galmer created the 2012 Preakness Trophy, valued at $30,000, which was presented to the I'll Have Another team this past weekend. At the HITS summer series, Galmer's stunning goblets, mint julep cups, wine coasters and napkin rings depict stately horses in sterling repousse'. Galmer is one of a few silver artisans using the rare repousse' (pushed from the back) technique which begins by pressing silver onto a special steel mold and then engraved from the front. All parts of the process are performed by hand. Each piece is richly sculptural and hallmarked by Galmer.
American Estate Jewelry was founded by Carolyn O'Keefe in honor of her mother Sally, a career woman and joyful mom who wore one stunning silver cuff every day. Sally had inherited the estate cuff from her great grandmother and it became her signature. The company's bracelets designed and created by Galmer Fine Silver are known as "forever cuffs" because women wear their signature cuffs every day, for all occasions and then -- because of their intrinsic value and important Galmer hallmark -- pass them on as valuable heirlooms to the next generation. Galmer's reputation is marked by its twenty-year history with Tiffany & Co. creating complex silver pieces, frequent work with Gorham Silver and special commissions for historical societies and museums.
American Estate Jewelry pays tribute to the American tradition of passing distinctive sterling jewelry from generation to generation. The name American Estate represents not only this family tradition but also America's silver-making tradition, preeminent in turn-of-the-century America. The collection featuring repousse' silver bracelets, distinctive necklaces, rings and earrings is available through http://www.theforevercuff.com or http://www.americanestatejewelry.com. CONTACT: Carolyn O'Keefe (410) 218-9500, carolyn(at)americanestatejewelry(dot)com