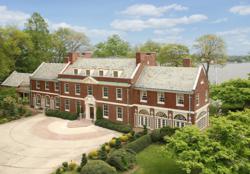 Auctions are a very transparent process for both Buyer and Seller
(PRWEB) May 20, 2012
When the owners of an historic estate in Middletown, New Jersey, neighboring similar manors owned by the likes of Jon Bon Jovi, Bruce Springsteen and corporate CEOs, considered options for putting up their property for sale for the first time in over 28 years, the choice was clear: a luxury real estate auction. According to the Middletown estate homeowners (who wish to remain anonymous), luxury auctions offer more value for a sale of such a distinguished property because they drive buyers to take action. This is why their property is set to go up for absolute auction with Supreme Auctions on June 12th with no reserve price.
Built in 1916 by famed architect John Russell Pope, the Georgian style mansion rests on 4.7 beautifully landscaped acres. Pope designed the Jefferson Memorial and the West Building of the National Gallery of Art in Washington, DC as well as private residences for the Vanderbilts. The home features over 12,000 square feet of opulence, including 8 bedrooms, 7 bathrooms, 4 fireplaces and 2 garages across three expansive levels. The property includes a caretaker apartment, sauna, negative edge pool, Jacuzzi, English gardens, a pond and mature trees, boathouse, private boat dock and 250 feet of river frontage on an exclusive stretch of the Navesink River in Red Bank, New Jersey.
In spite of the persisting recession, luxury auctions – in real estate, art and beyond – have consistently offered up strong, if not astronomical returns for sellers over the past few years, as well as exciting opportunities to buyers. From the recent record-breaking auction sales of the Los Angeles Dodgers sports franchise and Edvard Munch's iconic painting "The Scream", to an ever-increasing crop of high-end real estate in the world's most exclusive markets, the timing for this exciting new partnership between local real estate powerhouse Keller Williams NYC and national luxury real estate auction company Supreme Auctions couldn't be better, according to Maverick Commins, President of Supreme Auctions. "Auctions are a very transparent process for both the Buyer and Seller, the buyers know they are buying at fair market value and the Seller knows exactly when their property is going to sell," Commins said.
The first of what will be many luxury real estate auctions in the greater New York City and New Jersey area, the Keller Williams NYC and Supreme Auctions partnership first came to pass when Supreme Actions Managing Director Thomas "Tuvia" Sablosky procured the Middletown property for auction. Having done multiple transactions with Keller Williams NYC in the past, the conversation quickly evolved toward discussions of a larger and more long-term luxury auction undertaking at the Keller Williams office – with Sablosky at its head. This new luxury auction division at Keller Williams NYC now joins other Keller Williams offices in Scottsdale, Seattle, San Diego and Austin that too offer a luxury property auction division. Plans are already in the works to open additional luxury auction divisions in Los Angeles and Vail, Colorado. The London, UK office for Supreme Auctions provides international auction services for clients overseas.
The property will be available for viewing prior to auction. For more information, please call 866-929-2243 or visit http://www.supreme-auctions.com.
About Supreme Auctions
Supreme Auctions is a leader in luxury property auctions of targeted regional, national and international luxury real estate auctions by providing proprietary accelerated marketing services that are unique to each distinctive property represented and sold. The company's results are well proven, with a 98 percent sales success rate. With a dedicated team of auction professionals that provide years of expertise, integrity and knowledge. Supreme Auctions provides the highest level of service to both sellers and buyers of multimillion-dollar luxury properties. The auction process has been around for years but the methods of marketing an auction have been and are currently changing at a rapid pace, Supreme Auctions combines experience and resources with the most current resources. The company offers both Keller Williams International and other brokerages nationwide the appropriate auction strategy to ideally suit each exclusive property, offering services that are unparalleled in the real estate industry.
About Keller Williams NYC
Keller Williams NYC is the Manhattan division of leading real estate company Keller Williams Realty Inc. The firm has offices at 425 Park Avenue and 725 Fifth Avenue in Manhattan. Founded in 1983, Keller Williams Realty Inc. is the second-largest real estate franchise operation in the United States, with 700 offices and more than 80,000 associates in the United States and Canada. The company, which began franchising in 1990, has an agent-centric culture that emphasizes access to leading-edge education and promotes an economic model that rewards associates as stakeholders and partners. The company also provides specialized agents in luxury homes and commercial real estate properties. For more information, visit http://www.kwnyc.com.