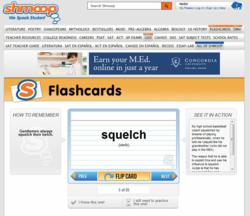 Mountain View, CA (PRWEB) May 21, 2012
Have trouble committing things to memory? Can't recall the location of those glasses? Wish the remote control was in its usual spot?
Poring over large blocks of text isn't always the easiest way to cement facts, dates and definitions in that spongy thought called the brain. Often, repetitive and rapid-fire practice is the way to go. Case in point: just think about how difficult it would be to forget someone who was firing off explosives.
Shmoop, a publisher of digital curriculum and test prep, announces the launch of Flashcards. This tool is available site wide, meaning people can use it to test their English vocabulary, their algebra skills or their mastery of the Harry Potter lexicon. A person can't expect to get very far in life if she can't tell her Hippogriff from her Blast-Ended Skrewt.
Features include:

Text to speech. A student will have the opportunity to hear the text on many flashcards spoken out loud. For now, it is just a computerized voice. Shmoop has been trying to get Morgan Freeman, but he isn't returning their calls.
Printable flashcards. If a student works better with actual, physical flashcards which he can hold in his hands, no worries – just print 'em out and start flashing. Eventually, a student is going to have to accept that computers are taking over the world, though.
Quizzes and true/false questions. These aren't all just one-word vocab cards. A student may be asked which character uttered a particular quote, what a complicated equation simplifies to or who did what in a given Norse myth. Don't worry – she'll be given a hint in Norse code.
Explanations. Shmoop's flashcards don't just give students the answers, they also explain why or how they arrived at such an answer. And very rarely will they say, "because we said so."
Links. The flashcards will sometimes also provide links to other sources that can elaborate on the matter at hand. http://www.yourewelcome.com.
Tips to remember. Students will find sample sentences and handy mnemonics to help them wrap your head around a word or concept. What a great way to acquire mnew mnowledge.
So if the SAT is fast approaching, or if a student just wants to make sure she remembers this stuff in 20 years, take a gander at Shmoop's new Flashcards and see if her brain can keep up. For an added challenge, see if it can keep up sans Red Bull.
About Shmoop
Shmoop is a digital curriculum and test prep company that makes fun, rigorous learning and teaching materials. Shmoop content is written by master teachers and Ph.D. students from Stanford, Harvard, UC Berkeley, and other top universities. Shmoop Learning Guides, Test Prep, and Teacher's Editions balance a teen-friendly, approachable style with academically rigorous materials to help students understand how subjects relate to their daily lives. Shmoop offers more than 7,000 titles across the Web, iPhone, Android devices, iPad, Kindle, Nook, and Sony Reader. The company has been honored twice by the Webby Awards and was named "Best in Tech" for 2010 and 2011 by Scholastic Administrator. Launched in 2008, Shmoop is headquartered in a labradoodle-patrolled office in Mountain View, California.