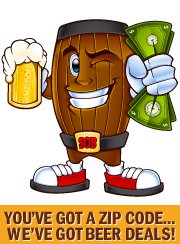 SaveOnBrew has really become a haven for American craft beers in the past year and we're literally adding new brands every single day
Houston, TX (PRWEB) May 18, 2012
American Craft Beer Week is in full swing, with just the weekend left to go. This holiday, established by the Brewers Association in 2006, now encompasses over 1,500 events taking place at over 300 breweries in every state across the land. In fact, the holiday is so popular that Congress has introduced House Resolution 1297 "Supporting the goals and ideals of American Craft Beer Week."
As the tens of thousands of beer lovers come out to events and sample their favorite craft brews, they may be wondering where they can find their favorite beers once they head home. SaveOnBrew.com is a new search engine that works like Google for beer. Site visitors simply enter their zip codes to access a database of over 350,000 advertised beer sales. They can narrow down the search by type of beer (like "craft/micro/cider"), by retailer, by brand, or by container. The site also provides maps to help thirsty beer drinkers find the most affordable craft brew retailer in the area. Best of all, the website is completely free to use.
"We first started out with all the big guys – Budweiser, Coors, Miller," explains SaveOnBrew's Mark Davidson, "but we've gotten a tremendous amount of feedback from beer lovers across America, not to mention, great response from retailers and independent breweries. So our site has really become a haven for American craft beers in the past year and we're literally adding new brands every single day."
He says that beer price searchers can find the lowest advertised price on craft beers such as:

Blue Moon
Magic Hat
Sam Adams
New Belgium
Sierra Nevada
Shiner
St. Arnold
Real Ale
Pilsner Urquell
Roscoe's Hop House
And many more!
Davidson adds, "The cool thing about SaveOnBrew is that people can hop on their smartphones, find the cheapest advertised price on craft beer near their exact location, and get a map to take them right to the retailer! It is, quite literally, the easiest way to locate affordable, high-quality beer right away."
Once the week of beer tastings is over, beer connoisseurs can abate their cravings by finding reasonable deals published online at http://www.SaveOnBrew.com. Any brand, beer, or retailer that isn't currently listed on the site can be added by recommendation. Listings are free to all brewers and retailers who sell cases of beer directly to consumers. Mark Davidson invites craft brew lovers to peruse the blog and the database, and to email him if there is anything in particular they would look to see added.
About SaveOnBrew.Com: Founded in 2010 to help thirsty beer drinkers across the United States find the lowest advertised prices for one of the world's most popular beverages.