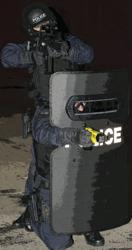 Officers count on the protection provided by DeadStop® Police Shields. Their lives depend on it.
Lakes Forest, CA (PRWEB) May 21, 2012
They are the words any law enforcement agency dreads to hear: "Officer down." For the St. Petersburg Police Department, the toll was two officers gunned down in the line of duty attempting to solve a domestic violence issue.
LCOA Composites, manufacturer of the ultra-light police shield line, DeadStop® (deadstopshields.com), immediately donated one of its flagship Regulator shields to the department in honor of the fallen officers.
In an example of the good coming from the tragic, the St. Petersburg Police Department were so enamored with the donated shield, they asked the manufacturer if other DeadStop shields could be produced in compliance with the Department's custom specifications. LCOA Composites affirmed and began development last year to create a special St. Pete version of DeadStop.
But. . . DeadStop had to earn the opportunity. The Department did an exhaustive study of all ballistic shields on the market from 6 manufacturers. After comparing, the SPPD awarded LCOA Composites with the order of 45 shields, paid for by confiscated drug money, one for each of the city's patrol cars.
The DeadStop shields were modified Regulators (24" x 40") with a viewport, weapon "portals" and a drop strap. This new model was ultimately named the Equalizer. The shields conform to NIJ LIIIA standards meaning among other attributes it has the ability to stop a .44 caliber bullet from 15 feet.
"DeadStop shields have been very well received by the law enforcement community," commented LCOA Composites President Patrick Redfern. "They are extremely lightweight and easily deployable in the field. Officers love them."