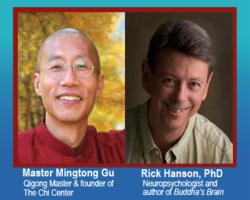 "Only when we ask the right questions, can we make better choices. Ancient teachers know, science now knows, but many people don't know yet what to do for a more brilliant mind."
San Rafael, CA (PRWEB) May 20, 2012
The Chi Center of Sonoma County California, will host a one-time online live stream and In-Person event, Awaken Your True Power of Mind and Brain, featuring Qigong Master Mingtong Gu and neuropsychologist Rick Hanson, PhD on May 26, 10 a.m. - 6 p.m. This event, brings together two leaders in the wellness field, and features cutting edge technology by livecasting this event via the internet and live/IN-Person to the local San Francisco Bay Area audience and creating short YouTube clips featuring Dr. Hanson and Master Gu answering questions about the mind.
On May 26 the audience can go deeper, to learn the newest medical findings on what goes on in the brain from stress, aging, experiences and illness, how this confirms what ancient wisdom has taught for millennia and training in the exact steps to build a more brilliant mind. It is a rare chance to learn from these two thought leaders, with skills honed from very different training and experiences from the eastern and the western perspectives. Author of the popular "Buddha's Brain" and "Just One Thing", Rick Hanson will lead the workshop and practice demonstration for "How to Build a Benevolent Brain". Founder of The Chi Center, Master Gu will teach the ancient eastern perspective of the mind being the gateway to a healthier brain and body and provide Qigong practices for beginner to advanced, in " A Qigong Mind".
"Only when we ask the right questions, can we make better choices. Ancient teachers know, science now knows, but many people don't know yet what to do for a more brilliant mind. So we are posting videos with questions on the internet and will go into these questions more deeply on May 26," Master Gu said. These video clips begin to ask the questions that matter: "How Can I use my Brain to Improve My Well Being?" and "Life is Good, but Why do I Feel so Lonely?", "Where do I begin". They are posted on Facebook and YouTube.
"Mindful training skills will eventually become a part of every person's upbringing and every parenting toolkit," Master Gu said. More than any generation, from children to seniors we are barraged with disturbing news on our smart phone, television and computer at alarming rates, and science now tells us the brain reacts swiftly and seriously to it. Unfortunately, it is reshaping the brain to be in fear and anxiety. "The same stress machinery neurologically and hormonally that evolved to get our ancestors from charging lions or lethal aggression, are locked and loaded today when we're stuck in traffic or quarreling with someone across the dinner table," Dr. Hanson said. Stress and exhaustion is so common today that it accelerates the aging process, and, as a result, many people experience their calendar age as much older than it needs to be. " Do Qigong before you leave work and drive in the rush hour madness, and your mind will recover the calm and joy that allows the trip to help and not hinder your brain."
Dr. Hanson said, "Lowering stress levels improves the strength of the immune system. The way we think and feel will actually change the expression of the genes throughout our body. It won't change the genes themselves, but it will change the way they are unpacked." In addition, they will show why a 20 year old needs to respect their brain while it's developing and a 95 year old is still able to change their brain. People of any age will benefit from this event, because science now proves exactly what the mindful teachers have taught for millenia, that the brain changes your whole life and a mindful practice will change it to build a better life experience.
Ticket Price: $80, Includes access to Live Stream and access to In-Person Event, Free access to Watch Recorded Event until June 5
What: Awaken Your True Power of Mind and Brain Event presented by The Chi Center
Where: Online or In-Person at Osher Marin JCC, San Rafael CA
When: May 26, 2012, 10 a.m. - 6 p.m.