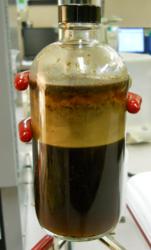 Vancouver, WA (PRWEB) May 31, 2012
FOI Laboratories, an industry leading fuel testing, analysis and research laboratory, delivered on its commitment to ensure fuel quality and safety when it responded to a local municipality's inquest. A 911 Call Center, that fell into the common mistake of allowing the quality of the diesel fuel in its emergency backup generator storage to remain untested for quite some time. Upon inspection, FOI found the state of the fuel to be well below acceptable standards. FOI ensured that the 911 Call Center's generator was properly cleaned and fuel treated so that the facility would be sufficiently prepared in the face of any future power loss.
With its degreed chemists and staff trained in the most up-to-date knowledge of the industry, FOI prides itself in providing customers with the highest level of service. "It is our primary interest to make sure that fuels are in the proper condition in case a generator is needed in an emergency," says Malala Pou, CEO of FOI Laboratories. "We were happy to assist this 911 Center, and look forward to helping other municipalities." Mr. Pou added.
For Mission Critical businesses, maintaining power and communication is absolutely essential. In an emergency it is crucial to know that backup power systems will work when needed.
All businesses that maintain Emergency Backup Power Generators should know:

Stored diesel fuel will deteriorate over time
Bacteria and fungus will grow in the fuel itself
Sludge and water will accumulate on the bottom of the tank, and rust can form on the sides
Fuel quality testing should be performed at least annually utilizing
ASTM standards
To learn more about emergency generator diesel fuel testing, please call
360-546-3835 or visit http://www.foilabs.com.
About FOI Laboratories
FOI Laboratories is an industry leading fluids analysis, testing and research laboratory. The company provides a variety of high quality fluids analysis and testing services to commercial and industrial businesses, with a special emphasis on fuels testing and analysis. The company provides superior quality analysis, a high degree of personalized customer service, and sample turn-around times far superior to other fluids testing laboratories.
FOI Laboratories is an industry leader, looked to by government agencies, production facilities and small producers alike for innovative, scientific answers. For more information on the company, please visit http://www.foilabs.com.