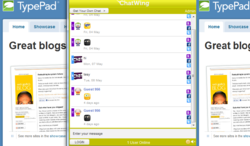 Washington, DC (PRWEB) May 18, 2012
When it comes to efficient blogging with a professional mixture of SEO, TypePad is one of the most common names to appear. This is based on recent Internet statistics and recommendations from hundreds of users all over the world. A TypePad user can have access to important and optimized marketing tools for as low as twenty dollars per month. Recently, a lot of TypePad users have been visiting Chatwing's website chat tool. These users were talking about the advantages of TypePad and some were ushering for lower pricing.
Chatwing is currently making a standard name in the chat live blogosphere, and it is gradually being recognized by a lot of bloggers and web surfers. One of the notable factors of Chatwing is its downright simplicity. Despite that, Chatwing appears as a professional solution for everyone. TypePad users can also use Chatwing to expand their social horizons. This fact was emphasized by Michael Diamond, one of the head developers of Chatwing. Recently, Michael Diamond held a short meeting with some TypePad users and he indicated the 'snowball' marketing effect that Chatwing can bring for any business or advocacy. Some bloggers have even compared Chatwing to large chatrooms like Yahoo and MIRC.
"TypePad and Chatwing can be a nice combo when it comes to professional services," Michael Diamond said in the latest meeting with TypePad users. "TypePad deals with wonderful content, while Chatwing provides a highway of communication for people. Plus, Chatwing is integrated with Twitter and Facebook. The marketing possibilities are endless." Since Chatwing is a shout box widget, it can be installed to blogs and websites that allow custom designing. Installation is a breeze, and users can expect that the widget will go live in seconds.
Everyday, Chatwing's blog chat box is generating more sign-ups than expected. This is because of recommendations coming in from various online communities. As a bonus, the Chatwing chat widget team keeps everyone updated with fresh and useful content in Facebook.
About Chatwing.com
Chatwing.com has developed live chat software for websites and blogs. It caters to different online communities due to its high rate of connectivity. Everyone can create a customizable live chat widget in 1 minute or less. Users have the ability to customize the size, color, and fonts of the chat product. The ability to chat via social media accounts such as Facebook and Twitter enable Chatwing to offer a personal and unique real-time experience to all sites. Chatwing is 100% free and very easy to use.