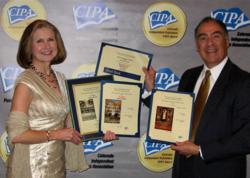 I must thank Derek Whitacre, audio engineer, whose technical expertise and creative use of sound effects, music and editing, brought these stories to life." Diana Andrade, President of BFV
Evergreen, CO (PRWEB) May 22, 2012
The 1st Place Gold Award was presented to Brook Forest Voices for A Voice from the Grave, a novel centered around an archeological dig at the site of the infamous Andersonville Prison, written by Florida author, Yvonne Mason.
The 2nd Place Silver Award was awarded for "Just Beyond Harmony," a memoir written by Gaydell Collier from Wyoming relating the Grand Experiment of raising her sixties era family in a cabin circa the1800s.
"Looking Through a Keyhole, A Memoir" was awarded the 3rd Place Bronze Award and relates New Jersey author Julia Spencer's journey to independence while losing her vision. Also nominated and receiving a Merit Award was "Miri, Who Charms" by Colorado author, Joanne Greenberg.
"I must thank and recognize the authors," stated Diana Andrade, President of BFV, "for all their hard work and for giving Brook Forest Voices the opportunity to produce and publish their audiobook. I also must thank Derek Whitacre, audio engineer, whose technical expertise and creative use of sound effects, music and editing, brought these stories to life."
About Brook Forest Voices: a complete audio production studio located just west of Denver in Evergreen, CO, specializing in audiobook narration, production and publishing. BFV is designed to help large and small publishers, as well as authors, with all their audio needs. Publishers and authors wanting to learn more can visit http://www.brookforestvoices.com or contact Jaime Andrade, BFV Business Manager at 303-670-4145.