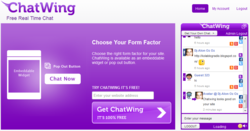 Nashville, TN (PRWEB) May 19, 2012
Nashville, TN – Iphone gaming can be considered as a strong niche today. This is because of then numbers of players that are looking for Iphone games daily. Iphone game hunters are now using different mediums they can find: gaming blogs, websites, message boards, and even website chat tools. Recently, Iphone game hunters were communicating with each other using Chatwing's advanced blog chatting tool. This simple chat application specializes in providing a new communication experience for everyone.
It is evident that Iphone game developers are now reaching out to different mediums in order to share their games properly to people. One of these mediums is the sole premise of blogging. When it comes to one hundred percent blog communication support, Chatwing' simple and advanced chat widget leads the pack. Chatwing operates on the premise of simplicity, unlike other applications with complicated commands. "Chatwing is a communication package available for everyone. People can now use Facebook and Twitter social media. Bloggers can use the shout box to attract visitors for their blogs. Chatwing is for 'chat' in general, making it compatible to different online communities," Michael Diamond explained to people who are really curious about Chatwing. He is one of the leading developers of Chatwing.
The recent version of Chatwing is also able to hold up to 600 active chatters. This upgrade has contributed to Chatwing's overall rank and generated over thousands of sign-ups across the Internet. Bloggers have also noted that Chatwing's web chat tool have improved the visibility of their blogs by up to eighty percent. The rate has doubled whenever beautiful posts were created. Adding to that, bloggers can now engage their visitors in real-time.
Many chatrooms have also operated under the same premise as Chatwing, but only a handful of them can deliver one hundred percent potential. Some of these applications also have subscription fees, warding off thousands of users. According to Chatwing's developers, the chat tool will operate under the freemium business model for a long time.
About Chatwing.com
Chatwing.com has developed live chat software for websites and blogs. It caters to different online communities due to its high rate of connectivity. Everyone can create a customizable live chat box feature in 1 minute or less. Users have the ability to customize the size, color, and fonts of the chat product. The ability to chat via social media accounts such as Facebook and Twitter enable Chatwing to offer a personal and unique real-time experience to all sites. Chatwing is 100% free and very easy to use.