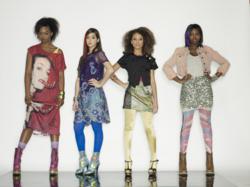 The group has recently been compared to Destiny's Child when they first hit the scene.
Los Angeles, CA (PRWEB) May 21, 2012
One of the hottest new and emerging teenage acts in their genre of urban pop and R&B music LOVE JONES GIRLZ announce their new upcoming radio promotional tour along with the release of their new single and music video "The Party Don't Start Without Me."
The group consists of four teenage girls from New York City, Claire Jones, Noni Storm Chinn, Taylor Nirvana Jones and newest member Sammi Sanchez. There is nothing these young ladies would rather be doing than being on stage. "Love Jones" is a throwback to the 1970's term that means "a deep love" and these girlz have a Love Jones for performing.
The group can be described as a blend of R&B with urban pop combined with elements of hip hop music, which gives these ladies their crossover appeal. Their sound is lively, animated, and reflective of the life of the average teenager, and their live shows have proven that any audience, any age can immediately become immersed with their radiant personalities and charisma. The group has been recently compared to Destiny's Child when they first emerged on the scene.
Three of the members attend The Professional Performing Artist High School (PPAS) in New York home to such notable alumni as Alicia Keys and Britney Spears. Their music video was shot at Club Cielo in New York City and centers around an all-teenage takeover of the club and in tribute to "Soul Train" features the famed "Soul Train line."
LOVE JONES GIRLZ are on the second leg of their first radio promotional tour. The first leg covered cities in the southeast including markets visits in Atlanta, Montgomery, AL, Columbus, GA, Columbia, SC, Charlotte and Raleigh. The second leg will cover key markets in Florida including Miami, Tampa and Jacksonville. The third and forth legs will cover Boston to Virginia, The Midwest and Finally Southwest. In tandem with the promo tour a special live in studio performance is being released by CBS radio "Streetdate" http://streetdate.radio.com/2012/05/18/exclusive-love-jones-girlz-perform-the-party-dont-start-without-me-live/ which features the group performing songs with their live touring band from the EP Addicted To Lipgloss. The various performances will roll out over the next several weeks. The group will also be performing at various venues throughout the summer and fall.
Songs on the EP include the ballad "Guilty," the fun "School's In Session" and the high energy pop anthem "Monster. The forthcoming debut EP Addicted To Lipgloss is scheduled to release on June 26th.
LOVE JONES GIRLZ PROMOTIONAL RADIO DATES:
DATE CITY
May 21 Miami, FL
May 22 Fort Lauderdale, FL
May 23 Tampa, FL
May 24 Orlando, FL
May 25 Jacksonville, FL
Additional information on LOVE JONES GIRLZ please visit:
WEBSITE: http://www.lovejonesgirlz.com/
MYSPACE: http://www.myspace.com/lovejonesgirlz
TWITTER: http://twitter.com/ilovejonesgirlz
FACEBOOK: http://www.facebook.com/pages/Love-Jones-Girlz/123933564306522
YOUTUBE: http://www.youtube.com/watch?v=ZtLDQ_SO_uE
PRESS CONTACTS
Monica Alexander
PR WIZZZZ ENTERTAINMENT
(310) 254-0168 / prwizzzz(at)aol(dot)com
Jocelyn Coleman
FAVOR PR
(310) 968-5624 / jcoleman(at)favorpr(dot)com
RADIO CONTACT
Marie Sellers
Director of Radio Promotion
(678) 778-4004 / msellers(at)urbanmelodic(dot)com