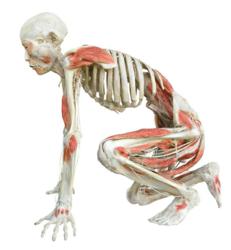 Last year, Bodies Revealed drew such huge audiences that it prompted an extended stay. We are anticipating an even bigger crowd this season.
Myrtle Beach, SC (PRWEB) May 21, 2012
Premier Exhibitions, Inc. will bring blockbuster exhibit, Bodies Revealed, back to Broadway at the Beach for a return engagement on May 28, 2012. The exhibit is scheduled to run through Sept. 16, 2012. Bodies Revealed is an exhibit where preserved human specimens and organs are tastefully displayed, allowing visitors of all ages to learn about the skeletal, muscular, reproductive, respiratory, circulatory and other systems of the human body.
The Exhibition will be located on the northeastern side of Broadway at the Beach, and will cost $14 for adults and $10 for children. Children under the age of three are free. It will be open Sunday through Thursday from 11 a.m. to 8 p.m., and Friday and Saturday from 10 a.m. to 10 p.m.
"Bodies Revealed was so well received last summer that we decided to bring it back to Myrtle Beach," said Dr. Roy Glover, chief medical director for Bodies Revealed. "With more than 14 million visitors coming to Myrtle Beach and Broadway at the Beach each year, we anticipate another successful run. This exhibit provides a look inside the human body unlike any other. It's a must-see for anyone interested in what makes humans the unique creatures we are."
The Exhibition features meticulously dissected real, whole and partial body specimens that have been preserved to give visitors an opportunity to view the complexity of their own organs and systems. These carefully-preserved specimens enable visitors to learn about human anatomy, and see the effects that disease and unhealthy lifestyles have on the body. In addition, many organs are displayed to illustrate the damage that can result from over-eating, lack of exercise and smoking.
"We're thrilled to welcome back Bodies Revealed for another summer here at Broadway at the Beach," said Patrick Walsh, senior vice president of asset management with the Burroughs & Chapin Company, which owns Broadway at the Beach. "Last year, Bodies Revealed drew such huge audiences that it prompted an extended stay. We are anticipating an even bigger crowd this season. We encourage everyone who comes out to Broadway at the Beach for a day of shopping, dining and fun to come see this unique exhibit."
Bodies Revealed has been organized and created by a team of medical professionals who take up to a year to prepare each exhibit. The bodies in the Exhibition have been donated for scientific purposes and have been preserved through a revolutionary process called polymer preservation. In this process, human tissue is permanently preserved using liquid silicone rubber that is treated and hardened. The end result is a rubberized specimen, preserved to the cellular level, showcasing the complexity of the body's many bones, muscles, nerves, blood vessels and organs.
For more information, visit bodiesmyrtlebeach.com.