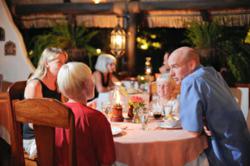 The Lodge at Chaa Creek is offering six tips for families to maximise their time together over summer vacations.
(PRWEB) May 19, 2012
As part of their Summer of Love campaign to encourage people to spend more time with loved ones, The Lodge at Chaa Creek is offering six tips for families to maximise their time together over summer vacations. And, according to marketing administrator Larry Waight, the resort is providing extra incentive with some hefty discounts on Belize all-inclusive family adventure vacation packages.
"We get so much repeat business from families that we thought we'd encourage more first time visitors with some significant discounts that make a Belize family vacation less expensive than many of the stay-at-home options," Mr Waight said.
"When you add up the many activities on offer here at Chaa Creek, and how many opportunities there are for families to enjoy themselves in our 365 acre private rainforest reserve, a Chaa Creek all-inclusive Belize holiday is actually a very affordable way for an entire family to spend quality time together while ensuring that everyone, from toddlers to grandparents, has a great experience."
Mr Waight gave six tips to help families enjoy an extra- special summer this year.
Share an adventure - nothing brings people closer together than sharing a new adventure together, such as hiking rainforest trails, exploring ancient Maya temples, or canoeing a tropical river.
Learn something together - learning something new together is a great way for families to interact and share the joy of discovery. Learn about the ancient Maya, the natural environment, medicinal plants, how to ride a horse, handle a canoe, or brush up on your Spanish.
Ensure that there is something for everyone - Active teens may make more use of the pool, parents may want a spa treatment or just relax in the lounge, children of all ages love the Butterfly Farm - Chaa Creek has something for everyone no matter what their age or interests.
Get exercise - a day of fun starting with a delicious healthy breakfast and full of as much activity as everyone wants results in a happy, contented feeling and a lifetime of memories.
Make it easy - holidays should be stress free. Chaa Creek's all-inclusive vacations are designed for maximum enjoyment with minimum hassle and include everything from accommodation, delicious meals, transfers, activities… everything. With plenty to do and no hidden costs, you can relax.
Return home with a new skill or interest Whether from exploring the Natural History Centre, Belize's fascinating Maya heritage, or kick starting the ability to converse in Spanish, many people leave Chaa Creek with new interests they continue to pursue at home.
Mr Waight said that from now until July 31, Chaa Creek is offering 20% discounts off their luxury thatch roof cottage rooms, and 10% off their Family Adventure and Inland Expedition all-inclusive Belize vacation packages, making Chaa Creek's famous rainforest luxury even more affordable.
"While Chaa Creek's Summer of Love also caters to romantics and couples with special Honeymoon and adventure romance deals, we're very much a family business and love to see what happens when families share something truly special together – it's just great to watch," Mr Waight said.