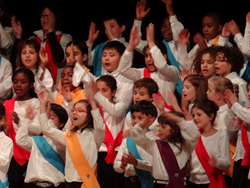 "I am always impressed by this remarkable school where everyone is welcome, at whatever level. Yet when we watch and listen to Thurnauer kids, we are amazed by their accomplishments." Bob McGrath, star of Sesame Street
Tenafly, New Jersey (PRWEB) May 23, 2012
Bob McGrath, beloved star of Sesame Street, and Francisco J. Núñez, director of the internationally-feted Young People's Chorus of New York City (YPCNYC), join forces May 23rd to celebrate Thurnauer School of Music's annual Gift of Music Gala Benefit Concert. Concert-goers help raise funds and champion music education for all children. The Gala showcases stunning performances by children of all ages in choral and instrumental ensembles.
The concert will take place Wednesday, May 23 at 7:30 p.m. in the Kaplen JCC on the Palisades' Taub Auditorium at 411 East Clinton Ave, Tenafly, NJ.
Mr. Núñez, will be honored for his vision in joining young voices from poor inner city schools and the richest private academies together to sing music of the highest quality, and thereby build and enrich community. Núñez' was a 2011 MacArthur "Genius" Fellow and received a National Arts and Humanities Youth Program Award from First Lady Michelle Obama. He accepts this award from Thurnauer to promote music education, to celebrate the accomplishments of this community music school. On Wednesday evening he conducts the 100-member Young People's Chorus of Thurnauer in thrilling choral works for young voices. The children come from throughout Bergen County including Englewood public schools as well as public and private schools of Tenafly and neighboring towns.
"We are so lucky and proud to also have Eric and Colin Jacobsen of The Knights performing with us. Bob, Francisco and the Jacobsen's embody our school's philosophy and share a vision of the power of harmony, the joy of music and a passion to bring quality music to everyone," said Dorothy Roffman, Founding Director of the Thurnauer School of Music. The evening includes a performance by the Music School's acclaimed jazz faculty, Vinnie Sperrazza, director, and special guests; violin groups; and much more.
Proceeds from the 22nd annual Gift of Music Gala Benefit Concert go to all the Music School's programs, including its scholarship fund and its Music Discovery Partnership with the Englewood Public School District. The Thurnauer/Englewood YPC membership has exploded in the last two years, under its conductor, Emma Brondolo, a protege of Mr. Núñez who spent 13 years under his tutelage in the YPCNYC, from 1992 to 2005, and who prepared the Chorus for Wednesday's performance.
"We are thrilled to honor Francisco and are so privileged to have him conduct our Chorus," said Music School director Dorothy Kaplan Roffman. "Francisco continues our proud tradition of world-renowned artists working with and inspiring our students. We are all elated to have the legendary Bob McGrath host and perform with us, joined by the very gifted Colin and Eric Jacobsen. These brilliant artists and our talented students will certainly inspire and thrill the audience."
Individual adult ticket prices are $250, $75, and $40. Admission for students aged 17 and under is $15 per ticket. To purchase tickets, or for more information about the Gift of Music Gala Benefit Concert, please contact the Music School at 201-408-1465 or thurnauer (at) jccotp (dot) org. Or, visit jccotp.org/giftofmusic. For ongoing sponsorship opportunities, including underwriting programs and concerts for public school children, please contact Alison Holzberg Kenny, development director, at 201-408-1462 or akenny (at) jccotp (dot) org.
About Francisco J. Núñez
Francisco J. Núñez, a recipient of a 2011 MacArthur Fellowship presented to individuals for their "exceptional originality in and dedication to their creative pursuits," is the artistic director of the Young People's Chorus of New York City™ (YPC), a composer, conductor, visionary, and leading figure in music education. In 1988 he founded YPC to provide children of all ethnic, religious, and economic backgrounds with a safe haven for personal and artistic growth and has changed the lives of thousands of young people.
YPC is widely recognized for its exceptional caliber and has been cited as a model of artistic excellence and diversity by the President's Committee on the Arts and the Humanities under the Clinton, Bush, and Obama administrations.
Mr. Núñez also leads University Glee Club of New York City, its fifth conductor since the all-men's choir was established in 1894, and was the director of choral activities at New York University from 2003 to 2010. He is also sought after as a guest conductor by professional orchestras and choirs and as a master teacher and advisor for choral workshops, demonstrations, and festivals nationwide. [source: ypc.org]
For more information about Francisco Nuñez, please visit http://franciscojnunez.com/.
About Bob McGrath
Bob McGrath just celebrated his 38th year on Sesame Street. He has bridged two generations of viewers as one of the original hosts. "I can't believe I'm really meeting you" is a common response heard by Bob from not only kids, but their parents as well, who also grew up with the show. He was recently inducted into the 2002 Silver Circle of the National Academy of Television Arts and Sciences. He is the recipient of the American Eagle Award by the National Music Council and the Fame Award by the National Association of Music Educators for furthering the cause of music education. For more information about Bob McGrath, please visit http://www.bobmcgrath.com/
About the Young People's Chorus of New York City
For more than two decades, the Young People's Chorus of New York City™ has provided children of all ethnic, religious, and economic backgrounds with a unique program of music education and choral performance, while maintaining a model of artistic excellence and humanity that enriches the community.
Founded by Artistic Director and 2011 MacArthur Fellowship recipient Francisco J. Núñez in 1988, YPC has become one of the most celebrated and influential youth choruses in the world, performing around the globe, releasing acclaimed recordings from across the musical spectrum, and collaborating with many of the most highly regarded composers, performers, and organizations of our time. This February YPC partners with Carnegie Hall in a three-day Transient Glory Symposium, based on its groundbreaking, 10-year commissioning program encompassing more than 60 new works for youth chorus by composers that include Pulitzer Prize, Oscar, and MacArthur "genius" grant winners. It regularly collaborates with countless other artists and institutions, which include American Public Media, American Ballet Theatre, Bang on a Can, the Kronos Quartet, the Stephen Petronio Dance Company, and The New York Pops.
About the Music Discovery Partnership
The JCC Thurnauer School of Music has been reaching out to area public and private schools since 1993, and has collaborated with the Englewood Public School District since 1997. This initiative has been praised by the Geraldine R. Dodge Foundation as "a stellar example of artistic partnerships in the schools....one of the finest in the state." More recently, Thurnauer has partnered with The Moriah School, also in Englewood. Offering three levels of focus, the Music Discovery Partnership serves children in grades 1 through 12 during and after school, both on-site and at the Thurnauer School of Music. For more information, please visit http://www.jccotp.org/category.aspx?catid=458.
About the JCC Thurnauer School of Music
The JCC Thurnauer School of Music, New Jersey's leading community music school, has been designated a Major Arts Institution by the New Jersey State Council on the Arts. Open to everyone with a desire to learn music, it offers a comprehensive program of private lessons for students of all ages on every instrument and voice, plus musicianship classes and orchestral, choral, jazz, and chamber ensembles. Concert and master class artists have included Glenn Dicterow, Pinchas Zukerman, Wynton Marsalis, Joshua Bell, Yefim Bronfman, Paquito D'Rivera, Mark O'Connor, Alan Gilbert and musicians from the New York Philharmonic, and many more world-class musicians. Recipient of a special award for "excellence and high standards" from The Chamber Music Society of Lincoln Center, the Music School is a member of the National Guild for Community Arts Education. It is part of the Kaplen JCC on the Palisades, a non-profit organization serving more than 20,000 people annually from Bergen County and beyond.