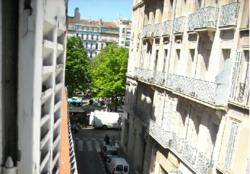 French Riviera B&B Available on bobzio.com
New York, New York (PRWEB) May 20, 2012
Massilia B&B offers the rental of an entire top-floor sunny apartment very near the French Riviera. The apartment is in the heart of Marseille, located in the southwestern tip of the 5th Arrondisment. Only a block away is the site of a dynamic market held each week. Accommodations include 2 bedrooms, kitchen, living room with futon couch, full bathroom with shower and tub. Each room includes a desk, chair, lamp, clothes hanger units and baggage table. Wi-Fi high speed internet comes with the apartment, as well as free calls to landline numbers in the US, Canada and Europe. Complimentary tote bag is offered as a souvenir, as well as a basket of complimentary croissants and pan-au-chocolate.
The apartment is found on one corner of what might be considered the golden triangle of central Marseille, points consisting of Notre-Dame-de-Mont, Cours Julien, and La Plaine. Between these three points are over 100 restaurants, cafés, bars, boutiques, clothing stores, music shops, even massage and yoga centers. The apartment is only a five-minute walk from the Red-M2 metro station and T2-Yellow tram line, as well as a block from the 74-Violet bus line.
The owners speak English, Spanish,French, and can communicate in Italian and Portuguese. There are many activities available in the surrounding areas to make your vacation in France even more enjoyable. These include museums, outdoor markets, galleries, walking tours, visiting the beach, golfing and more. Visit http://www.bobzio.com for more info and photos.
Bobzio.com is a co-op of vacation rental owners, home exchanges and area services. Bobzio.com announces free lifetime listings for owners of vacation rentals. A comparable website with thousands of listings will charge up to a $1000 for such perks and listing benefits as bobzio.com offers for no cost.
Each owner will get unlimited photos, video upload, interactive reservation calender, Google map and email contact form. Bobzio.com is only several months old but is growing fast. More users are discovering the advantages of searching for rentals based on activities such as golf, theme parks, scuba diving and any activity imaginable including surfing.
http://www.Bobzio.com being a co-op is owned by the members. The ownership role will be determined when the first 20,000 have joined. There will not be a better time to get in on an opportunity like this that could save up to $1000 each year in subscription costs. The website also offers training on techniques to increase internet marketing exposure for individual listings and tips to get photos and videos to show up in some of the major internet search engines. Jump on board. The sooner the better. To see an example of a free listing visit http://www.bobzio.com/view_property_details.php?title=Cape-San-Blas-Vacation-Rental-Bayrock-2-on-http://www.Bobzio.com--6080-Cape-San-Blas-Rd,-Port-St-Joe,-Florida-&pro_id=25
Bayrock a Cape San Blas Vacation Rental has a special going on now under Special Offers. Book a week in May for $1100. This is a $400 discount. Visit bobzio.com to see all the details and video under the Special Offer section.
Bobzio.com has created several strategic partnerships to assist with marketing and management of Vacation Rentals. One is DirectPlacement.co for help with Search Engine Placement (SEP). Visit DirectPlacement.co and ask about search engine placement ( SEP ) for the bobzio.com vacation property listing or home exchange. Adam, the owner, is very knowledgeable about SEP and personable in his approach. There are no long term commitments or contracts to try DirectPlacement.co services.
The second strategic partnership is with Alan Lane, owner of DepositGuard.com. DepositGuard.com makes it possible for the individual owner to accept credit card payments and bank transfer checks. The fees are minimal and paid by the renter. The renter gains the security of an escrow agent safeguarding their rental deposits. A second option is using Dwolla.com. They offer accounts that do electronic payments using the internet and Cell Phones. There service costs 25 cents a transaction. Both DepositGuard.com and Dwolla.com will be common names in the future but now they are getting started just like Bobzio.com.
Here is a link to a YouTube video showing how easy it is to start a listing: http://youtu.be/qOwKNH0c7Gg